Year 6 News 2016-2017
nterhouse sport
Year 5 and 6 children had an energetic and exciting afternoon on Friday in their inter-house Netball and Football Tournaments. Excellent teamwork in the Netball games, involving fluent passing, accurate shooting and keen tactical awareness, resulted in very close matches. Ultimately, even with extra time, St. Andrew and St. David both topped the table. In the Football Tournament, there were unexpected results throughout the afternoon: the St. George's team developed during the afternoon to clinch joint equal place with a fabulous St. David team. However, there was little between all teams: the standard of play was exceptional.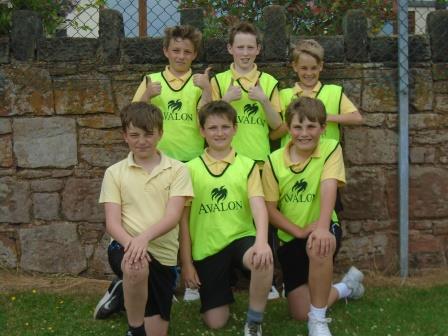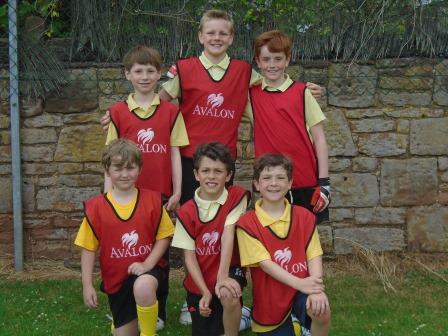 Carrie's War
Year 6 listened to the last chapter of Carrie's War by Nina Bawden whilst drinking tea and enjoying World War 2 themed cakes. Group discussions on the book have been very insightful, especially when analysing the characters and their actions. Through studying the book, the children have learned much about aspects of English such as: metaphors, vocabulary, the use of settings, hyphens and italics.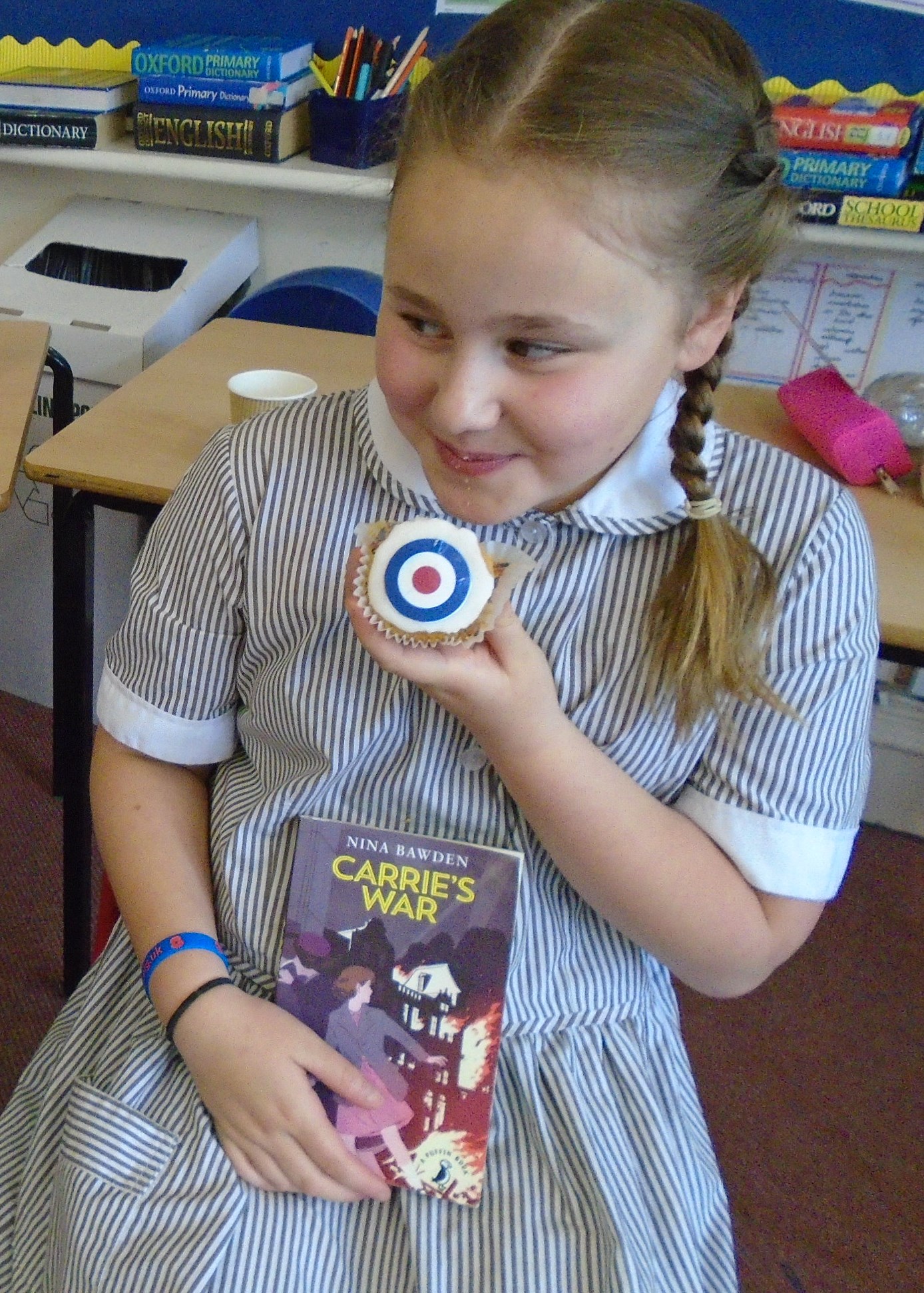 Spanish
Year 6 created their own Spanish raps and jingles to perform to the class. These particularly talented pupils also created a PowerPoint presentation so that the rest of the class could join in their Spanish Daily Routine song to the tune of 'A Pizza Hut'. With thanks to Year 6 for a truly enjoyable lesson!
Proofreading
As part of their literacy programme, Year 6 children have been looking at proofreading skills. They were given a short paragraph and had to analyse it for mistakes with the punctuation, paragraph layout, spelling and grammar. There are 18 / 19 mistakes in the paragraph below. Can you spot them all? (The reason for 18 or 19 is due to the fact that one of the missing commas is optional)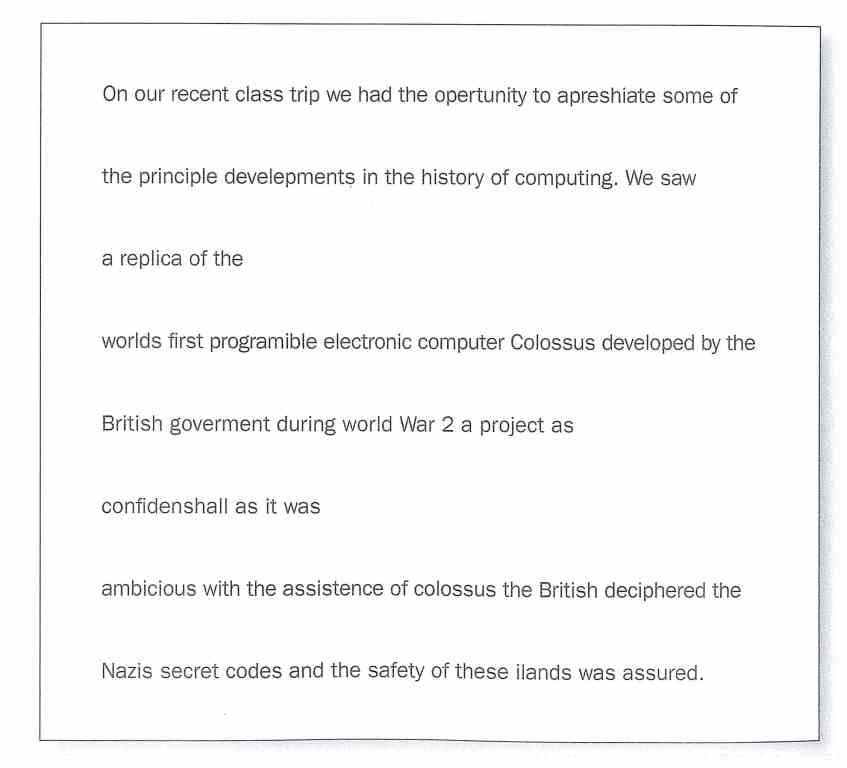 La météo (wb 30th Jan)
Year 6 have been learning how to say what the weather is and are now moving on to talk about the weather in different countries. They have learnt how to use the appropriate preposition. This will help us as we go on to learn about the vocabulary and structures used to talk about going on holiday.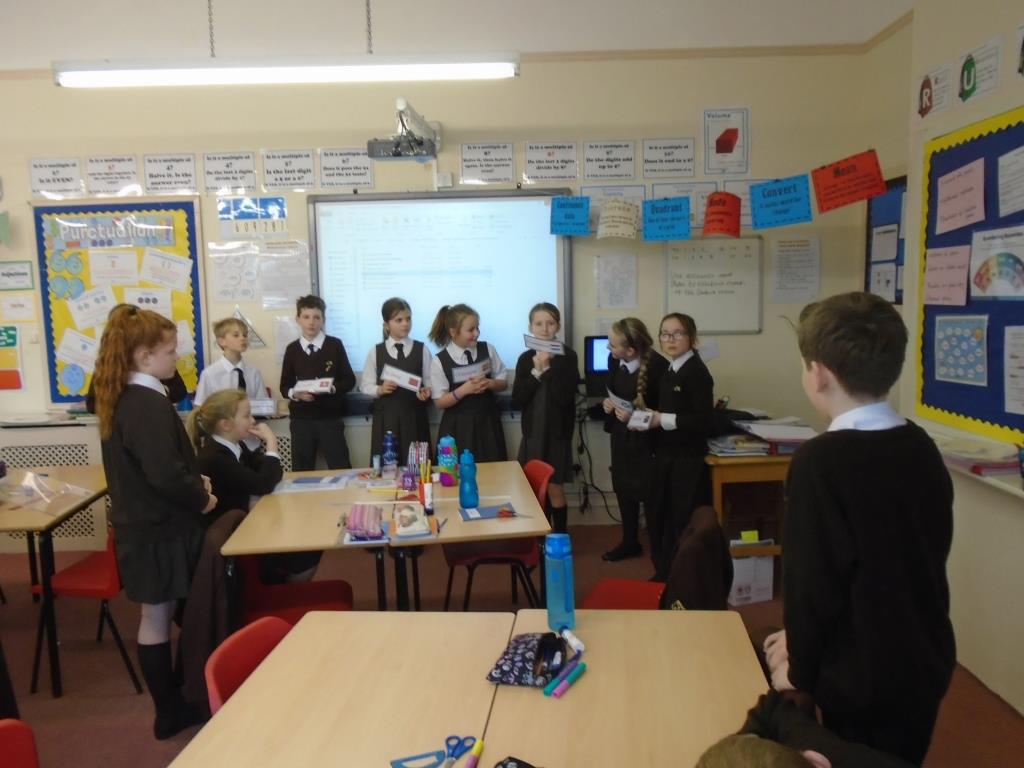 Terrific Scientific Taste Experiment (wb 23rd Jan)
Year 6 have been participating in a nationwide experiment run by BBC and Coventry University. They used blue food colouring to dye their tongues and to make the fungiform papillae stand out. 'Super tasters experience bitter tastes more strongly than other people; this is because they have a higher number of taste receptors within fungiform papillae, the big pink bumps on your tongue which contain your taste buds, enabling you to taste sweet, sour, salty, bitter and umami. By counting the number of fungiform papillae, you will be able to determine whether you are a super taster, taster or non taster.' Are you a 'Supertaster'?
Go to: http://www.bbc.co.uk/terrificscientific to find out more!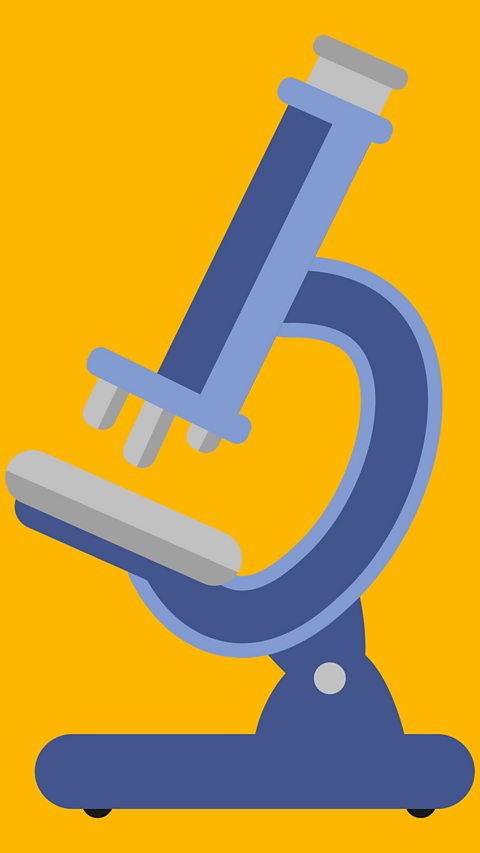 The BBC's new science campaign for primary schools. Take part in our exciting UK-wide investigations and see your results on our map.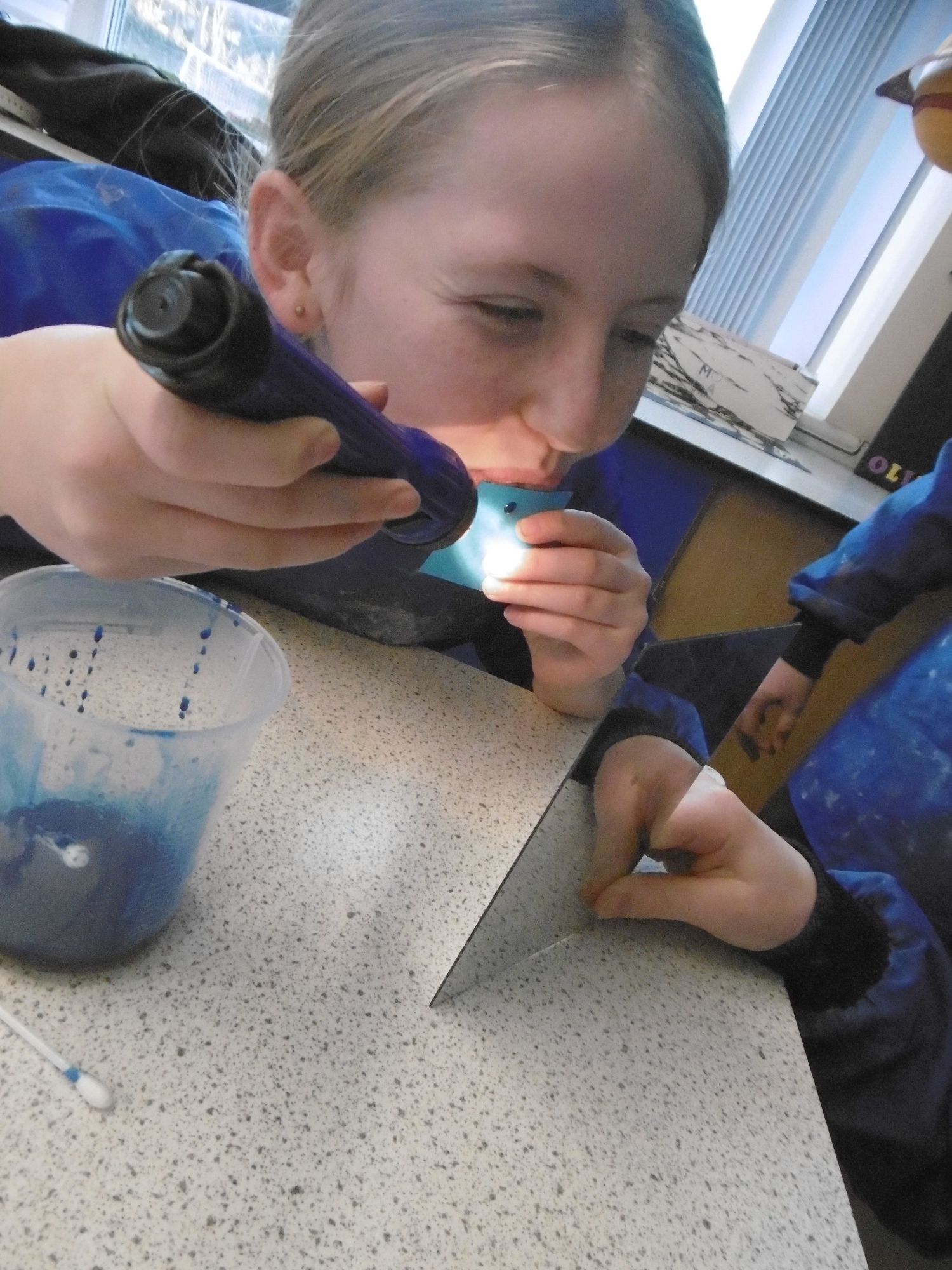 STEM Club Build Bridges (wb 23rd Jan)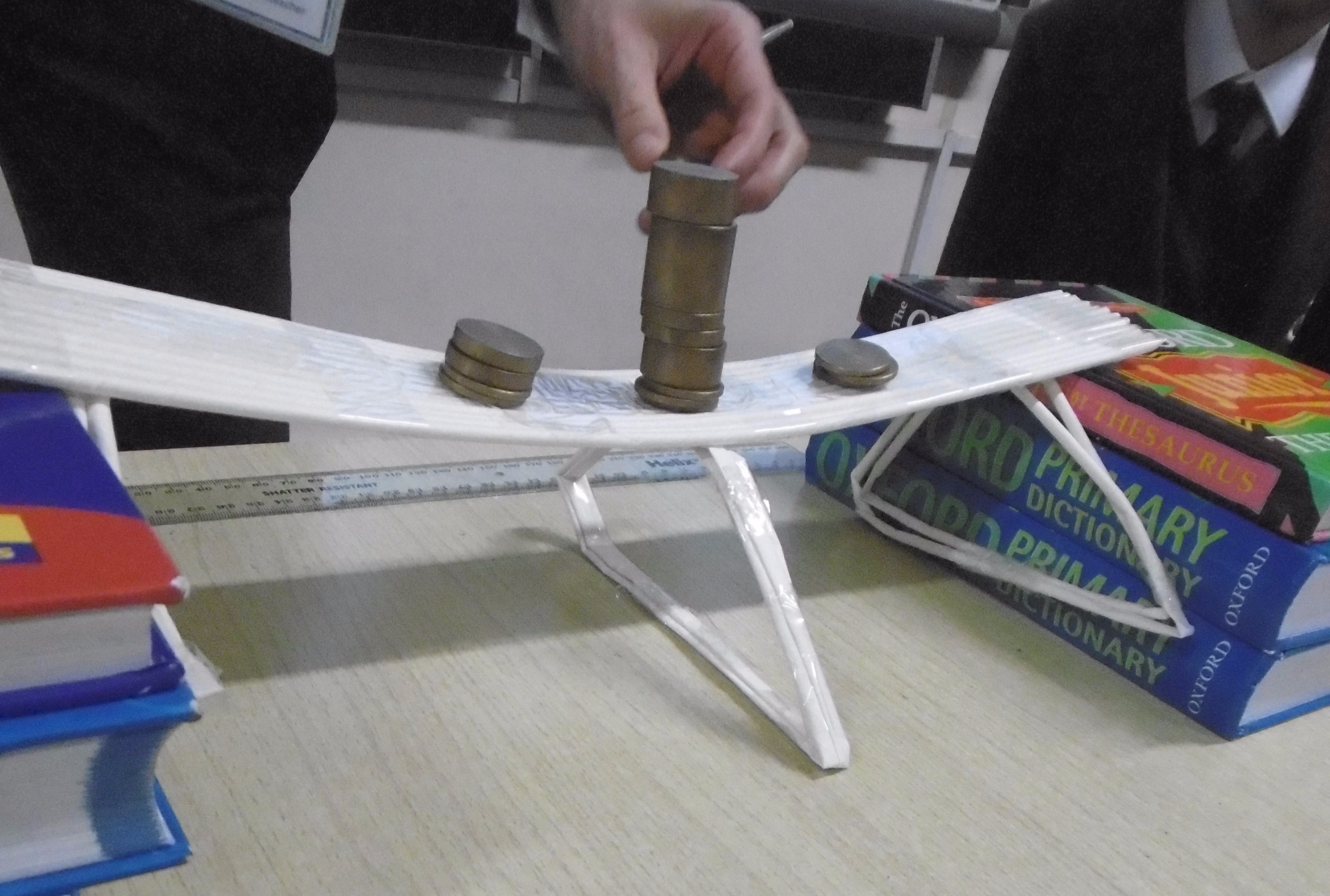 During this week's STEM club children were given the task of building a bridge using just 20 art straws, sticky tape and paper clips. The bridge could be any design and would be tested at the end using weights. We first discussed the ability of shapes to distribute weight and decided that triangles would distribute the force down both sides, with less chance of collapsing. The winning bridge held an impressive 500g!
Gymnastics
Year 6 put a lot of energy and enthusiasm into making bridge shapes in their Gymnastics lesson. They developed some very interesting bridges, all of which showed excellent collaboration, initiative and creativity.

Geography (wb 16th Jan)
In Geography we have been learning about trade and economics. First we used our knowledge of services and products to determine which are exported and imported, then we became countries trading 2-D shapes with one another. Some countries had plenty of resources but lacked the equipment to use them; some had the skills and equipment but not the raw materials, and some countries had neither. Does this represent what happens in global trading?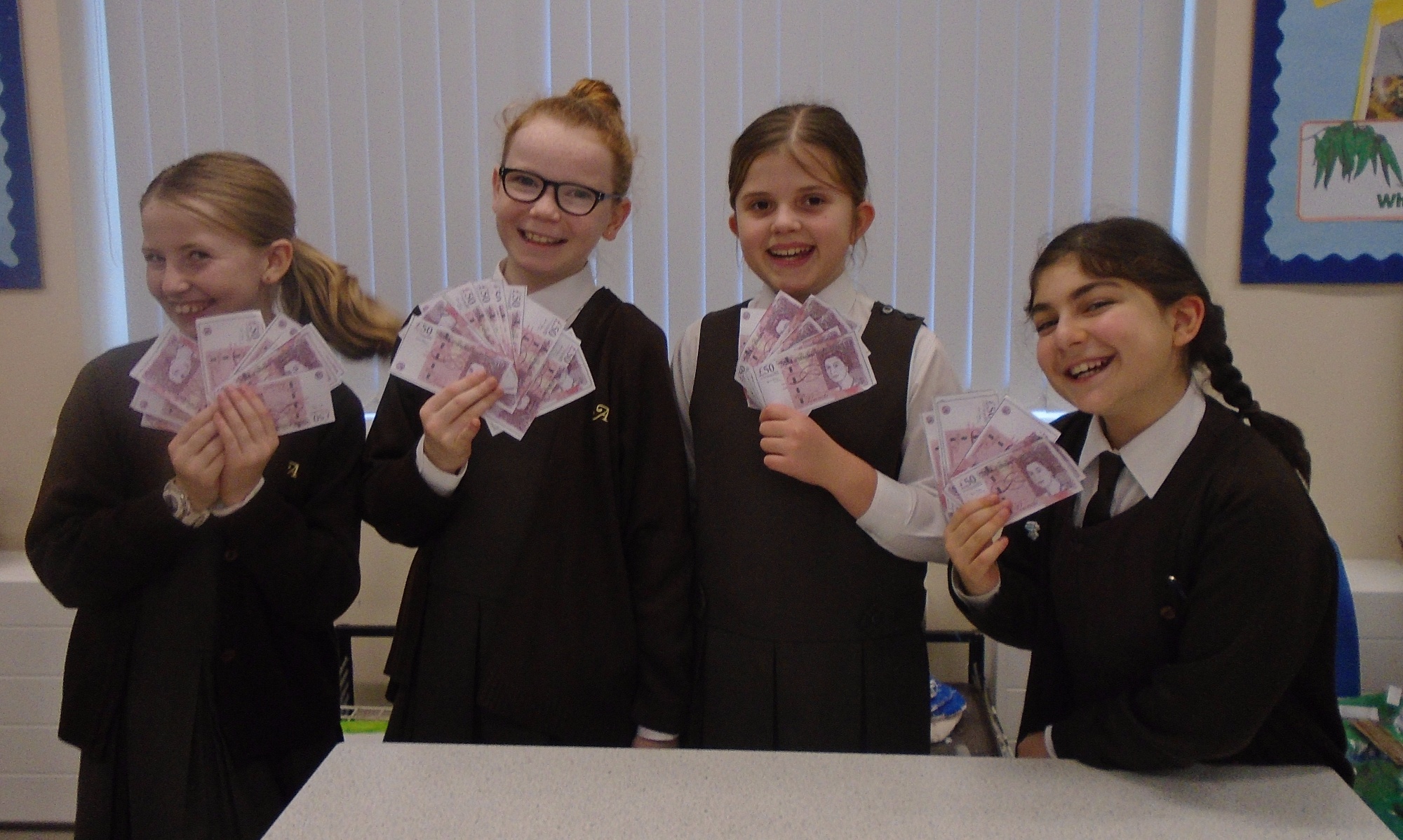 Space
After looking through some of our many library books on the topic of Space, Year 6 have started to note down some of their ideas for a poem for the Christopher Salmon Poetry Extravaganza. We are hoping that we have some very strong entries for the competition and that the children find the Space poetry challenge, an interesting one.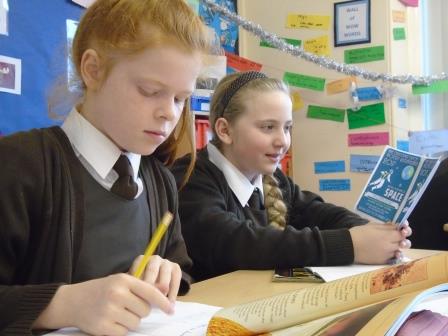 Meeting an author - Pam Bloom
On Wednesday, Year 6 had a very interesting and informative session with local author, Pam Bloom, whose first book-Whole New World(s)-we have just finished. Responding to the children's searching questions, Pam spoke about her writing background, her ideas, the development of the characters and the storyline. Our local author also explained about the process of getting the book printed, published and promoted. Chatting about her satisfaction in writing a book-a long-time aim- Pam showed us that, with confidence and determination, it is possible to fulfil our ambitions. To conclude the session, Pam gave us an insight into the second book of the trilogy-Running.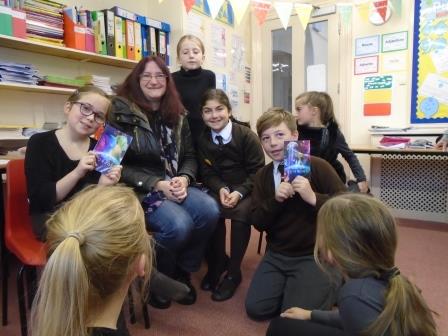 Road safety week
Year 6 have learned such a lot this week about Road Safety ( and have helped some others to learn too). Following a Road Safety session in the classroom, the children were asked if they would like to take part in a Kids' Court Project organised by Merseyside Police and Wirral Council. So, on Monday morning, the police, the television cameras and the radio presenters arrived at school. As motorists were caught driving over the speed limit outside school, they were escorted up to the school hall where the panel of children asked them questions. The children approached their job with great maturity and confidence. They were given the opportunity to watch the police officer with the speed gun and to go inside a traffic control vehicle with a speed camera inside. Our Year 6 children then appeared on the front page of the Wirral Globe and on the ITV news.
Grow Mould!
To improve our knowledge of micro-organisms, Year 6 have been investigating the growth of mould. Each group of children decided on an independent variable to change. We had groups adding different amounts vinegar, changing the type of bread and cooking the bread for different lengths of time. We had some exciting results and found ways of slowing or preventing mould growth on bread, ask Year 6 to find out more information.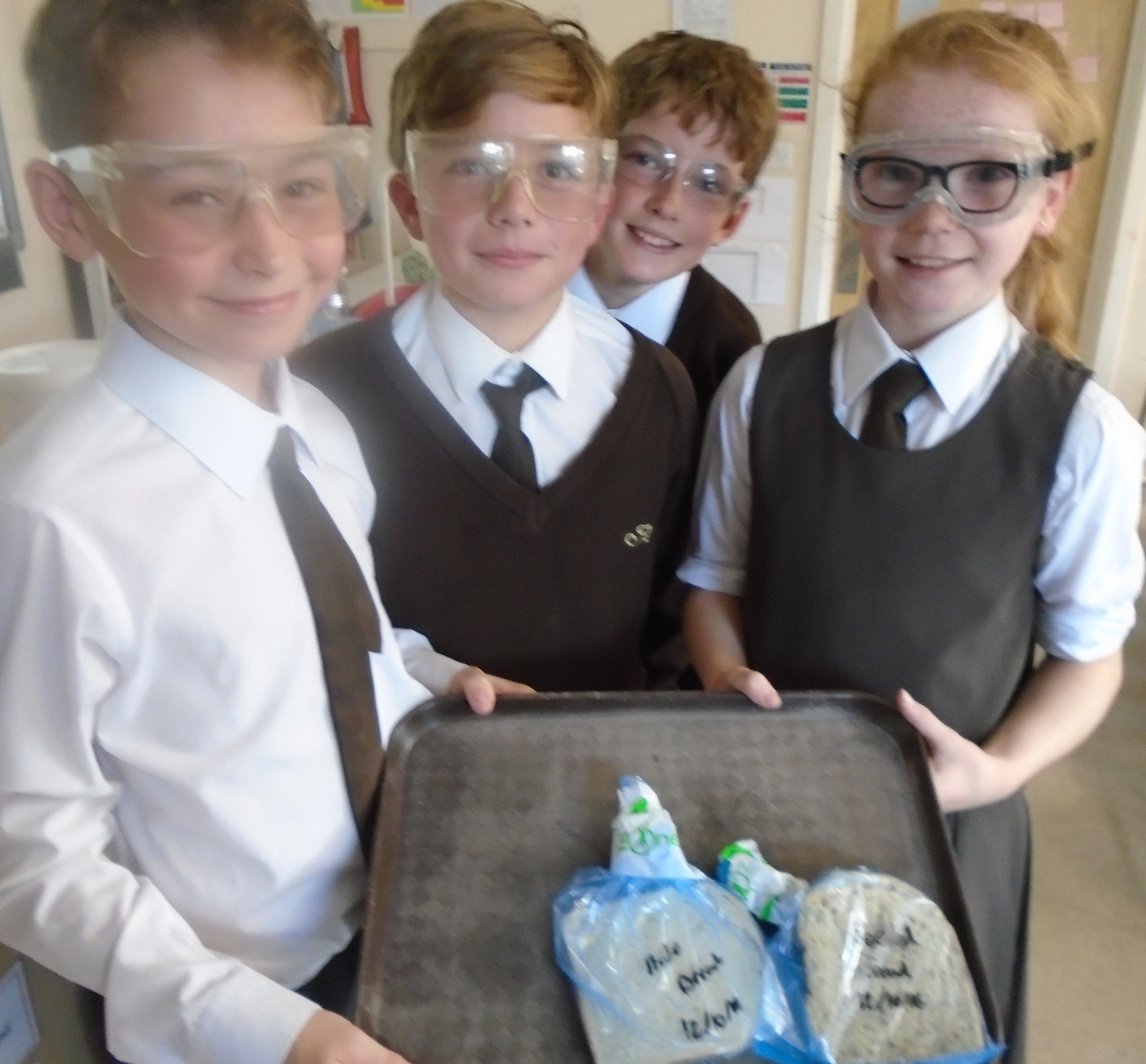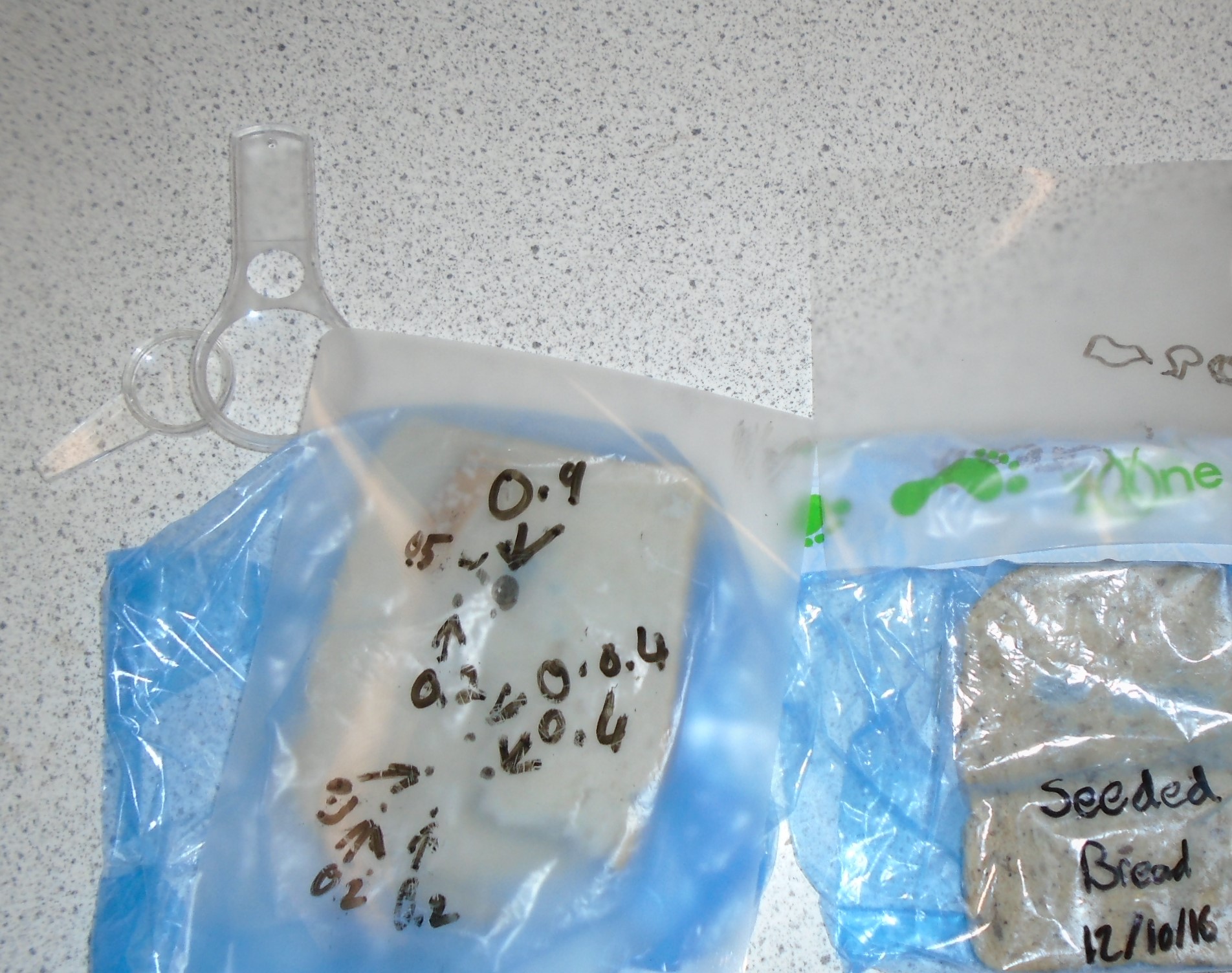 Discover the science behind building bridges!
On Wednesday Year 6 were given the challenge of constructing a bridge strong enough to hold a shoe, using only spaghetti, masking tape and elastic bands. We looked at some iconic bridges, then worked in small groups to construct, making joints from elastic bands. We will test and improve the bridges on Tuesday, good luck Year 6!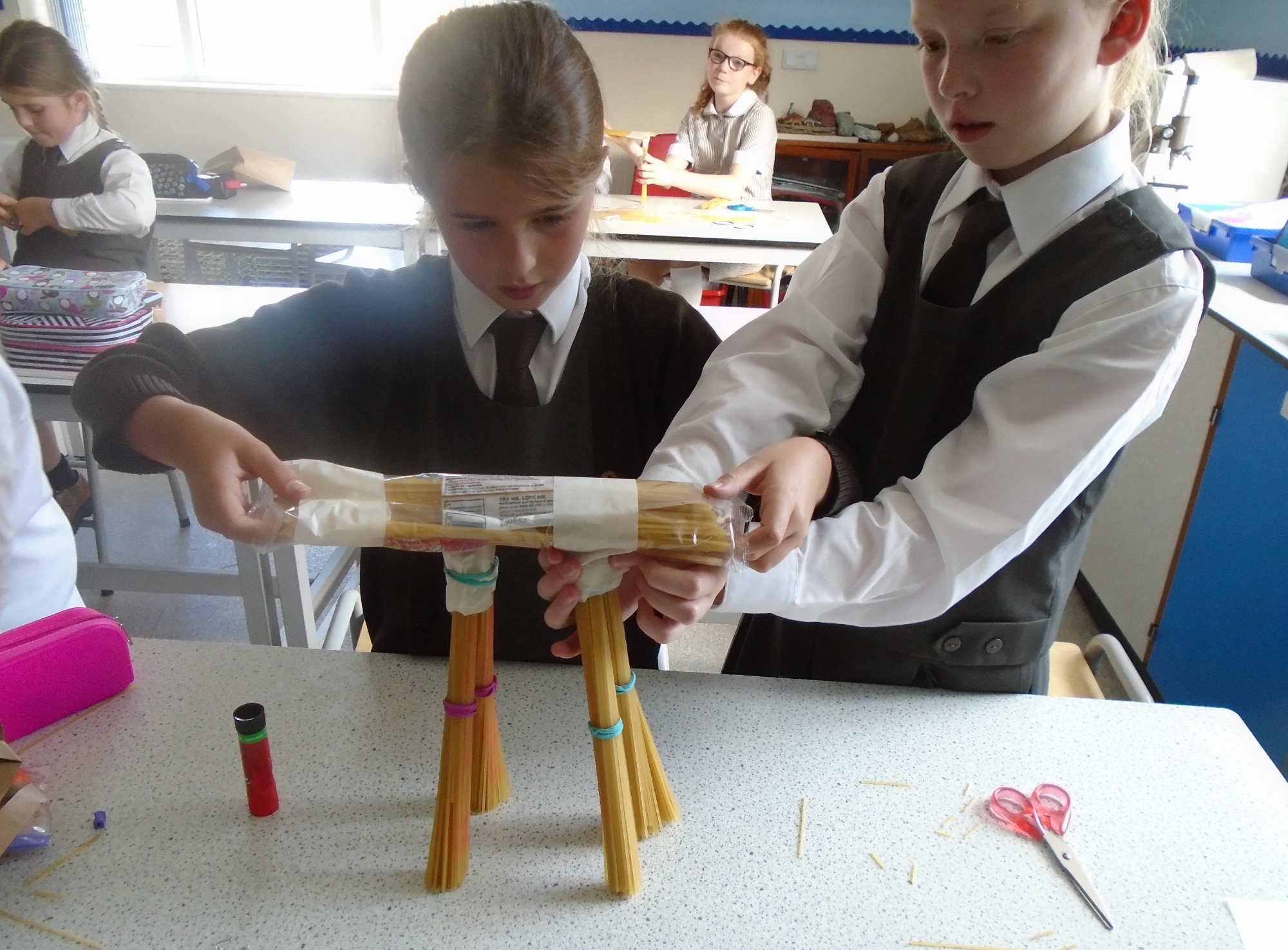 Whole New World(s) - Y6 group reading
Year 6 really enjoy their reading group sessions this. Recently, we started reading our new book: Whole New World(s) by local author, Pam Bloom. The children loved the first two chapters. "I felt like it was speaking to me," was the response of one pupil. "A thrilling book, it really drew me in," said another.
As well as looking at the writer's personal, chatty style, her use of dashes and commas and word repetition for effect, we discussed some PHSCEE issues raised such as the role of young carers, bullying and coping strategies for when we are feeling sad or lonely.
Spanish
In Year 6 we have been learning how to say what we like and don't like doing in Spanish. We made up our own conversations and presented them to the class using puppets. See our PowerPoint presentations of our individual interests on our display next to the hall.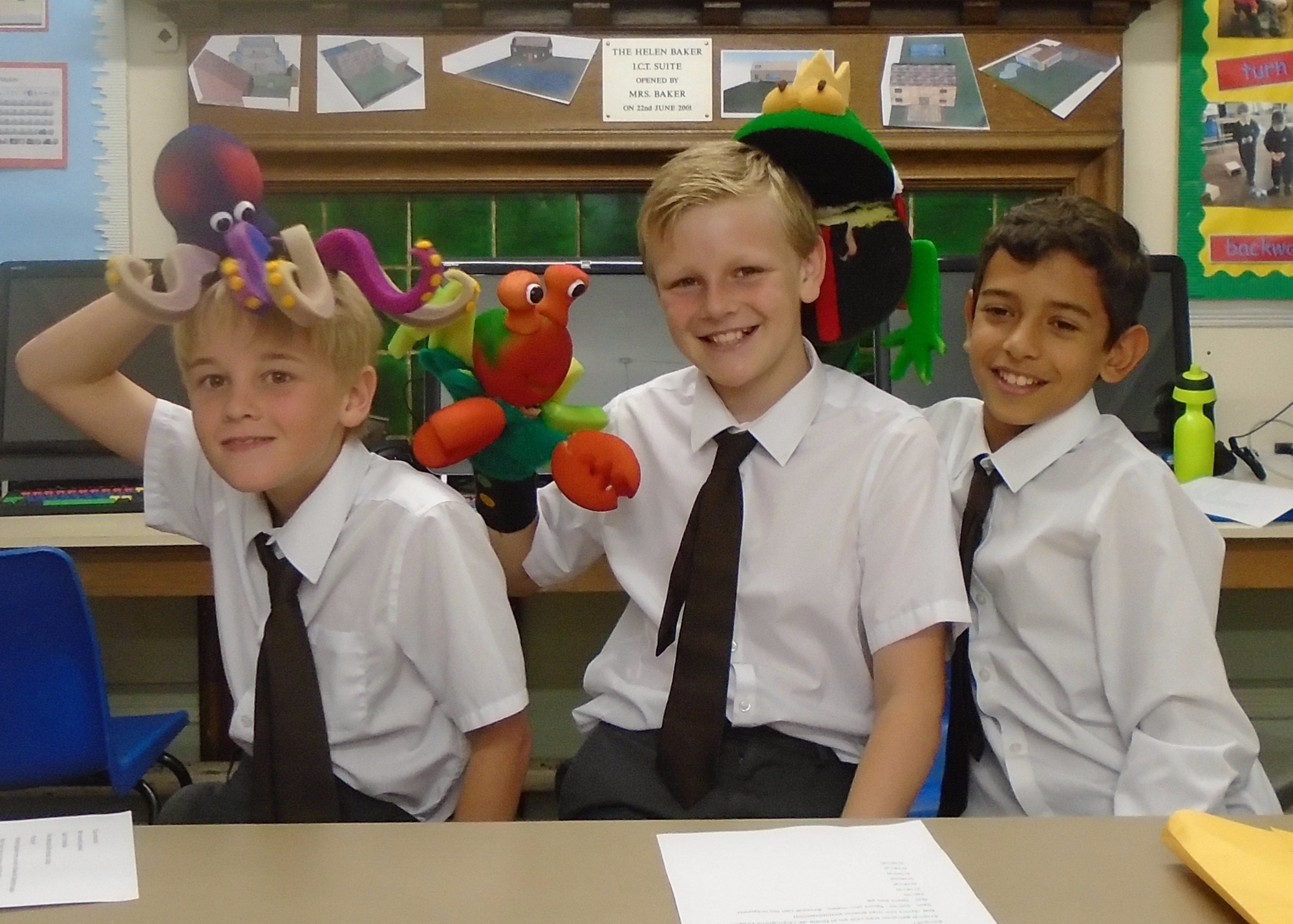 Beat Boxing
In recognition of all their recent hard work, the PTA funded a Graffiti and Beatbox Day for Year 6, lead by the inspirational Mac. Mac taught the children how to write a rap-which they did in pairs- which were then put together in a class performance accompanied by Mac: it was wonderful. In the afternoon, Mac showed the children how to create their own stunning designs which they skilfully transferred to their caps.
Science fiction
Having nearly finished our Science Fiction class reading book, Year 6, last week, have read a range of Science Fiction story extracts as well as doing their own research. This Monday, they started planning their own stories before writing them out in rough. After re-drafting, we have some fabulous and original Science Fiction stories.