Reception News 2022-2023
Number 10 Treasure Hunt
Reception class had great fun this week, exploring the number 10 in Maths! They learned that there are two digits in the number 10 and that the '0' has a very important job as it keeps the number '1' in its place!
The children also enjoyed taking part in a 'Number 10 treasure hunt' around school, 'tracking' down the hidden number 10s! They managed to find ten number 10s! Well done, Reception class for being super treasure hunters!
For more photo see the Reception Class Gallery.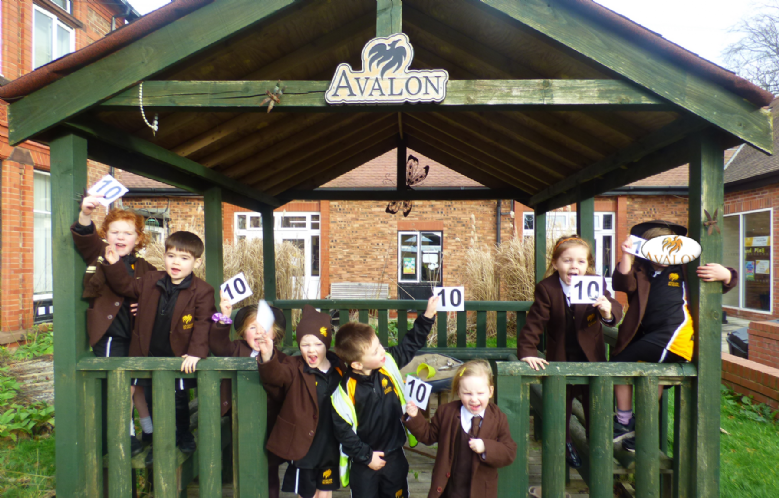 Getting Into The Festive Spirit
A festive time was enjoyed by all in reception this week. Our infant production was a huge hit with all the children performing so confidently, they have done super well this term learning their parts and performing on the stage.
We enjoyed a scrumptious Christmas Lunch cooked by the excellent Mrs Probert and her team. Christmas dinner with all the trimmings was enjoyed by children and staff alike!
Friday saw our Christmas party. Everybody looked so beautiful dressed in their party clothes. The children were entertained by 'Dozey Dave' and his awesome magic show, at the end of our party a very special visitor flew in on an express trip from the North pole bringing the snow with him!! It is save to say a great time was had by all and we are all in the Christmas spirit.
For more photo see the Reception Class Gallery.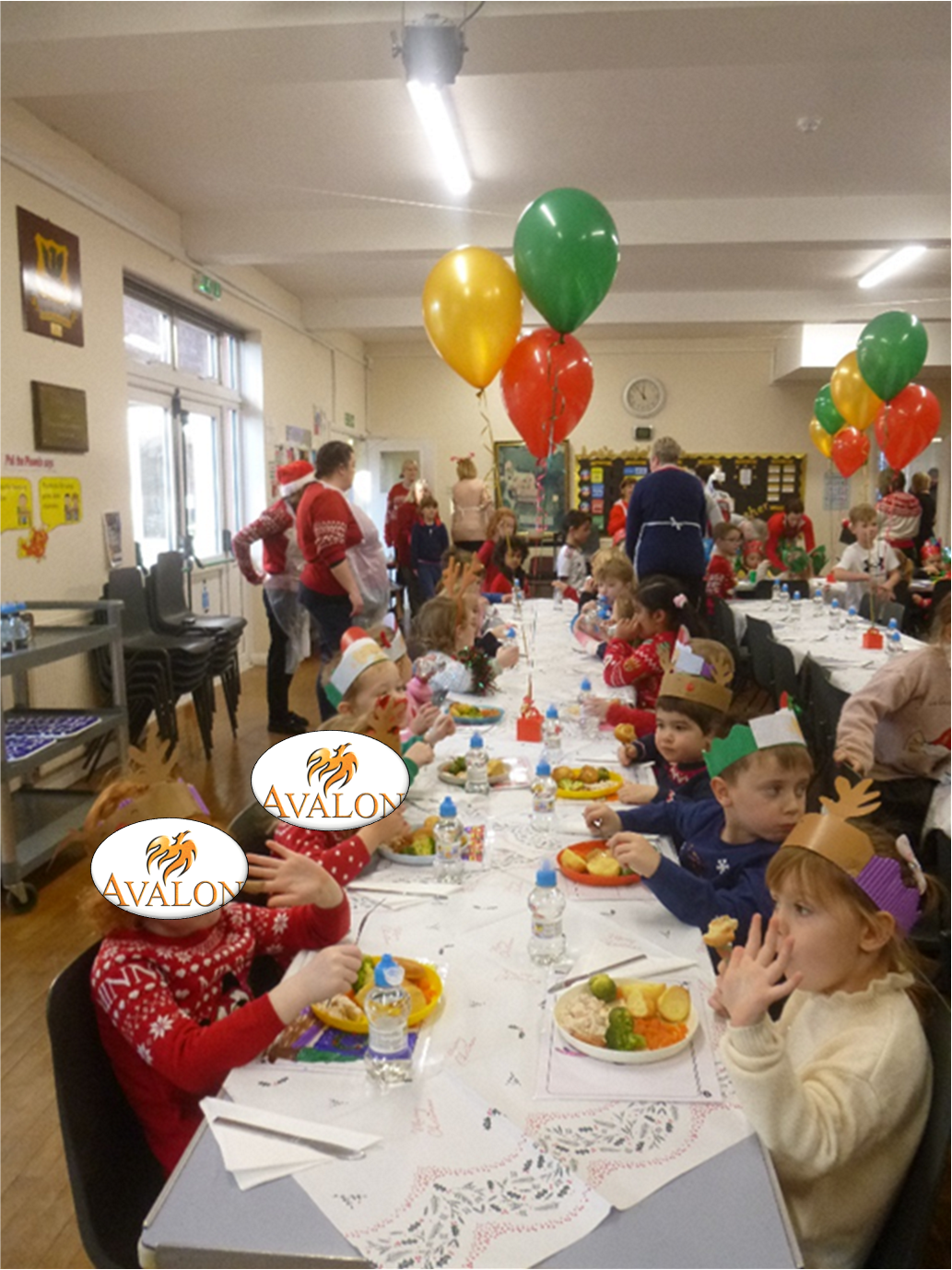 Sending Letters to Father Christmas
Another great week of learning and exploring has come and gone in reception and the children have been very busy. We came into out classroom this week to find it covered in flour, we found some buttons, a rolling pin a baking tray and a story of The Gingerbread Man. We had lots of fun coming up with ideas of why he was in our classroom.
The children this week wrote their letters to Father Christmas and this morning we took them to the post box to send them on the way to the North pole. Look out in the mail for their reply from the North pole!
This morning we buddied up with our Year 6 children who took us for story time with Father Christmas and this afternoon we enjoyed spending our pocket money at our school Christmas fair.
For more photo see the Reception Class Gallery.

Learning About Looking After Hedgehogs
Reception have been showing how amazing they are at following our school golden rules and have been wonderful ambassadors for Avalon. This week saw the Reception children head off to Caldy Manor Care Home for a morning of activities with the residents. The children made playdough cakes, decorated biscuits and played a very exciting game with the parachute and some balloons. Before we left the children shared some Christmas songs they have been practicing in school.
Friday saw Greer from Jackson's Animal rescue come into school to share with us how to look after hedgehogs. Greer shared with us all how they care for injured or poorly hedgehog We were joined by our friends from Nursery, Pre-School and Year 1 and 2. We got to ask lots of excellent questions and even feed (toy) Hedgehogs. We are looking forward to our upcoming nativity performance and have been working really hard to learn our lines and practice our songs.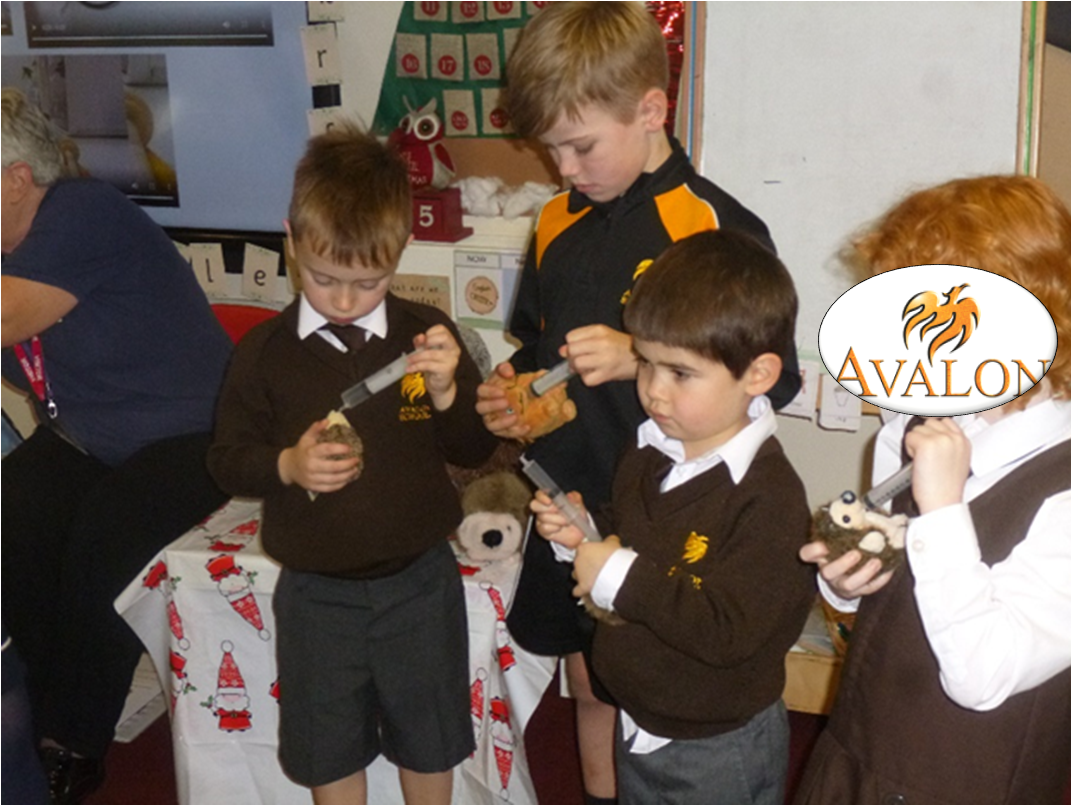 The Power Words Can Have
Reception class this week have been looking at Anti bullying and have been exploring similarities and differences. We explored this through apples and looked at how, although they are the same fruit they come in all different shapes, sizes, colours and tastes. We looked at what happens to the inside of an apple when we said unkind words to it and linked it to our feelings and explored how we can reach out to others if we hear unkind things being said to our friends. We presented our learning to a whole school sharing assembly.
For more photo see the Reception Class Gallery.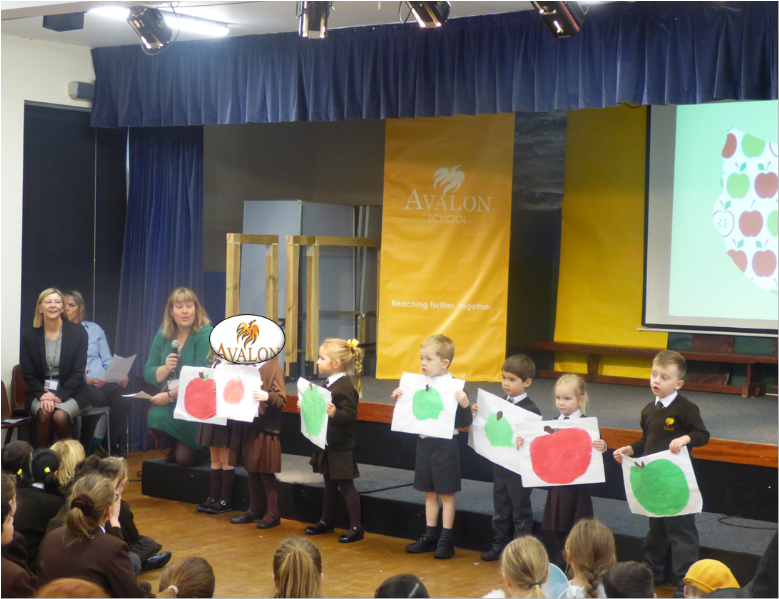 A Busy Week In Reception
We have had another very busy week in Reception the children have worked extremely well, we are very proud of them! This week the children had a visit from PC Holsgrove, and Community Support Officers Moria and Netty. The children learned all about their uniform and how they make notes on their special computer, they asked their questions and learned all abut how the police catch 'Baddies' They even got to try on the policeman's hat and have a sit in the police van!
Connected to our story of 'Funnybones' the children have explored skeleton bones and investigated whose bones they could be. On Tuesday afternoon we joined with primary schools from all over the country on teams to link up with The Royal College of Radiographers To hear all about the work of a diagnostic Radiographer and how they x-ray bones!
We respectfully remembered Remembrance day. We painted poppies and hung them in the Forest garden after we hung them up we stood for two minutes to remember the brave soldiers.
For more photo see the Reception Class Gallery.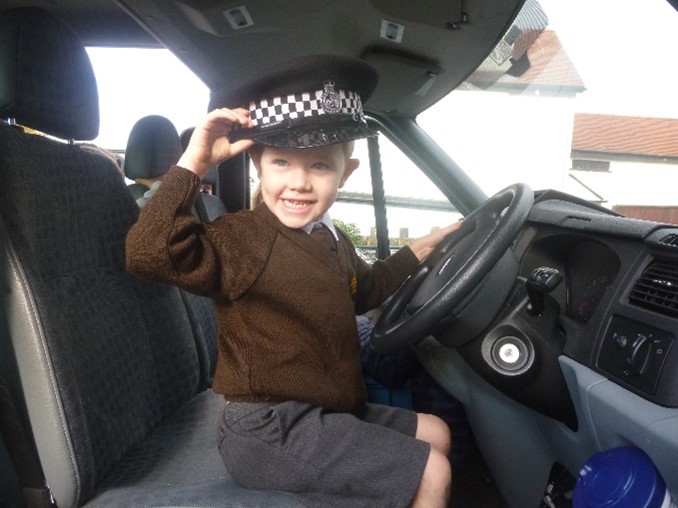 Enjoying an Autumn Walk.
We have had another busy week in reception, last week we went on an autumn wellie walk and collected lots of leaves, sticks, pinecones and conkers. We have used them this week to explore our story 'Leaf Man' by Lois Ehlert and created our own leaf man pictures, we have even used some of our phonic skills to write describing words!
We had a letter from the Forest Garden Fairies asking us to help them buy kindling for their fire. We had lots of fun working out how we could pay 3p especially as we realised there is no 3 pence piece. Some of us used 3 1 pennies and some of us used a 2p and a 1p. We enjoyed putting our maths knowledge into practice. We are looking forward to what exciting learning we have planned for next week.
For more photo see the Reception Class Gallery.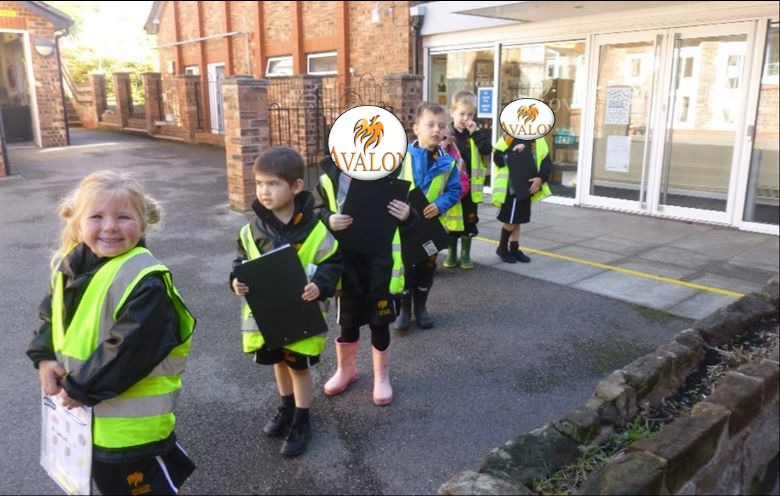 Making Apple Crumble, Yummy!
This week in Reception we have been busy writing lists and building houses with shaving foam and bricks, it was very messy but so much fun. The best thing in Reception this week has been making apple crumble. Inspired by our topic on autumn and discussions about our favourite foods we made a delicious crumble with the help of Mrs Probert. We have also sung solo to our class in music.
For more photo see the Reception Class Gallery.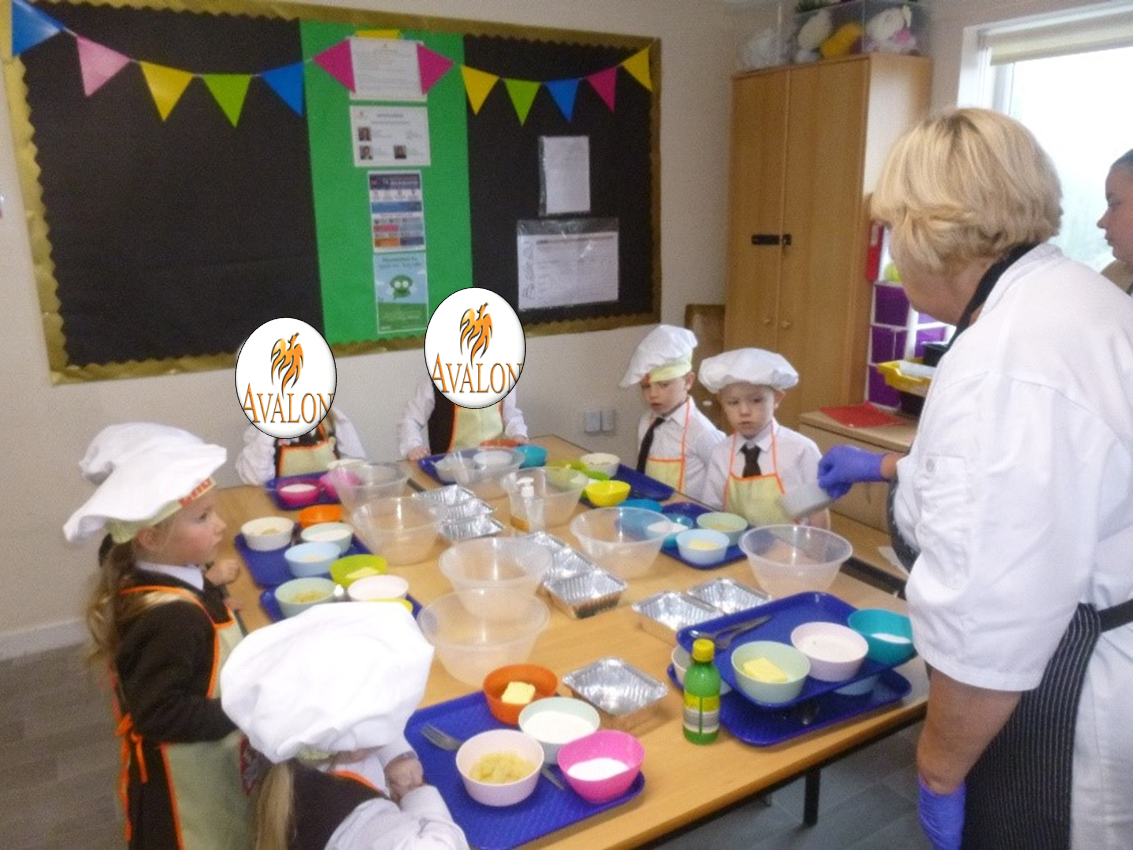 Learning to Write Letters
We have had another amazing week in reception. This week we have looked at our family pictures and talked about important people in our family. We have been superstars learning our phonic sounds and beginning to write. We explored numbers and enjoyed exploring how our bodies rolled down the hill in outdoor learning! We can't wait for next week.
For more photo see the Reception Class Gallery.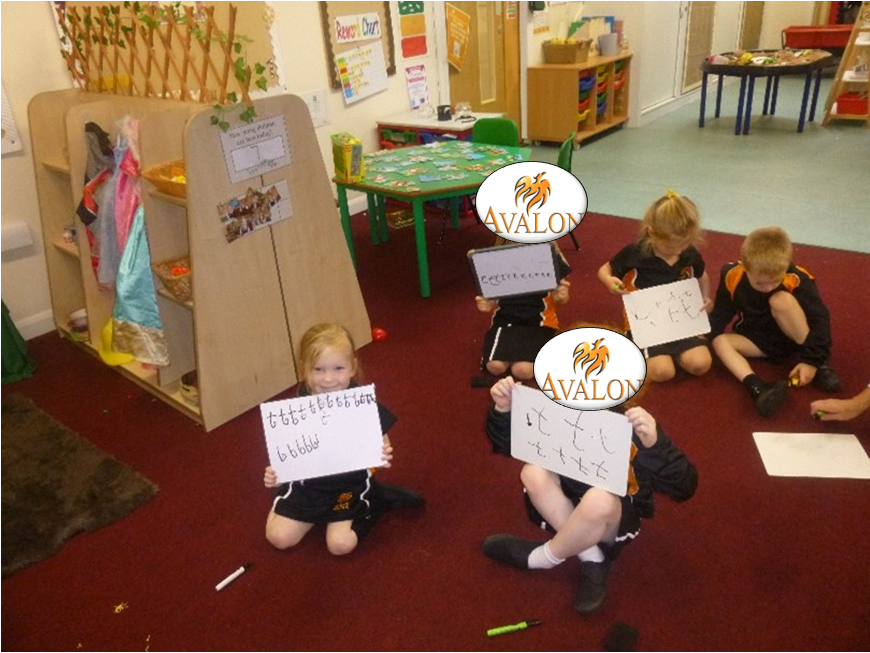 Fantastic Start Reception
Well done to all our Reception children for making such a fantastic start to the new school year. We have had lots of fun exploring our classroom and getting busy in all the areas.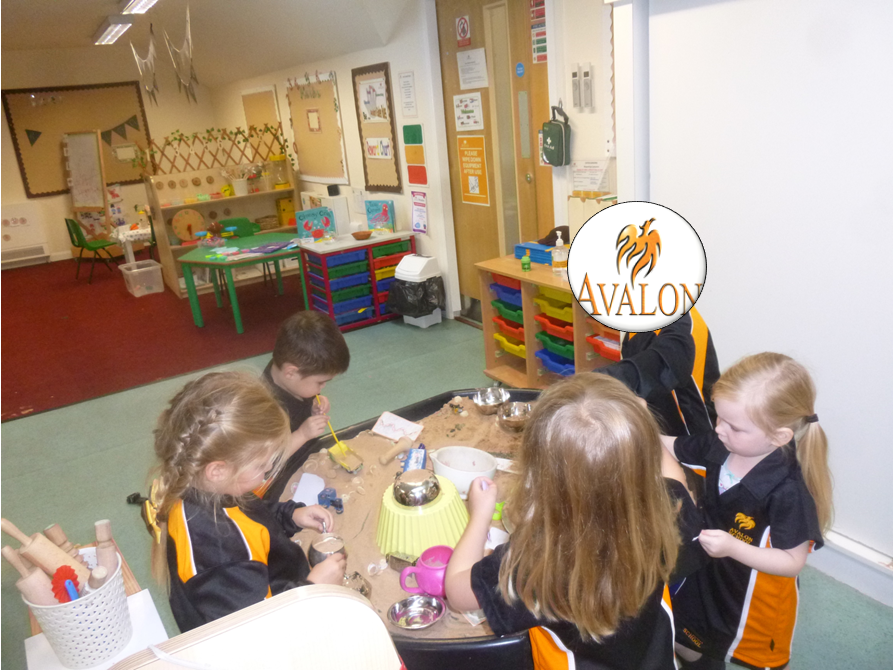 Welcome to school Reception Class