Nursery & Pre-School News
Snowball Target Practise
Christmas is getting closer!
More photos in our Gallery.
This week the children in nursery have been very busy wrapping presents, re-creating Christmas at home in the role play corner and having great fun using their gross motor muscles to throw snowballs at hooped targets. We have also visited number land again and concentrated on the number 4, finding shapes that have 4 sides, animals that have 4 legs and jumping , hoping and clapping 4 times. On Friday we enjoyed making chocolate truffles.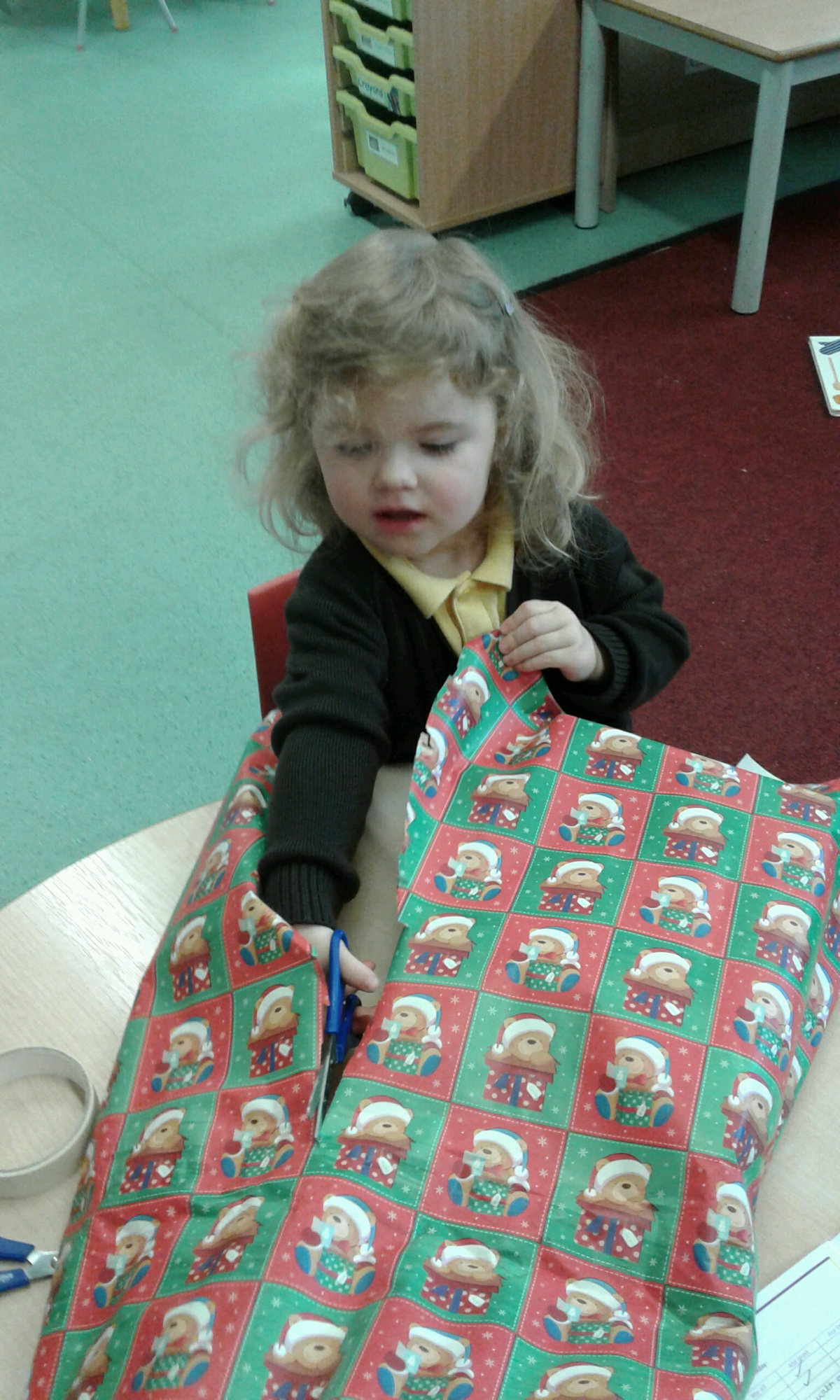 Christmas Fun
More photos in our Gallery.
In Mini Cooks this week the children have been making mince pies. They have weighed out ingredients and counting spoons to count the mince meat into the pastry. Yummy!
Christmas has arrived and the children have been very busy. They have decorated the Christmas tree in the home corner and playing dressing up with the Elf costumes. They have also enjoyed wrapping up pretend presents to place under their tree, writing labels with kind words such as share, play, be nice. Some of the children enjoyed taking their writing to the home corner and wrote their own Christmas cards. The children have been busy making place mats ready for our Christmas dinner and Christmas party. Lots of paint and glitter here!!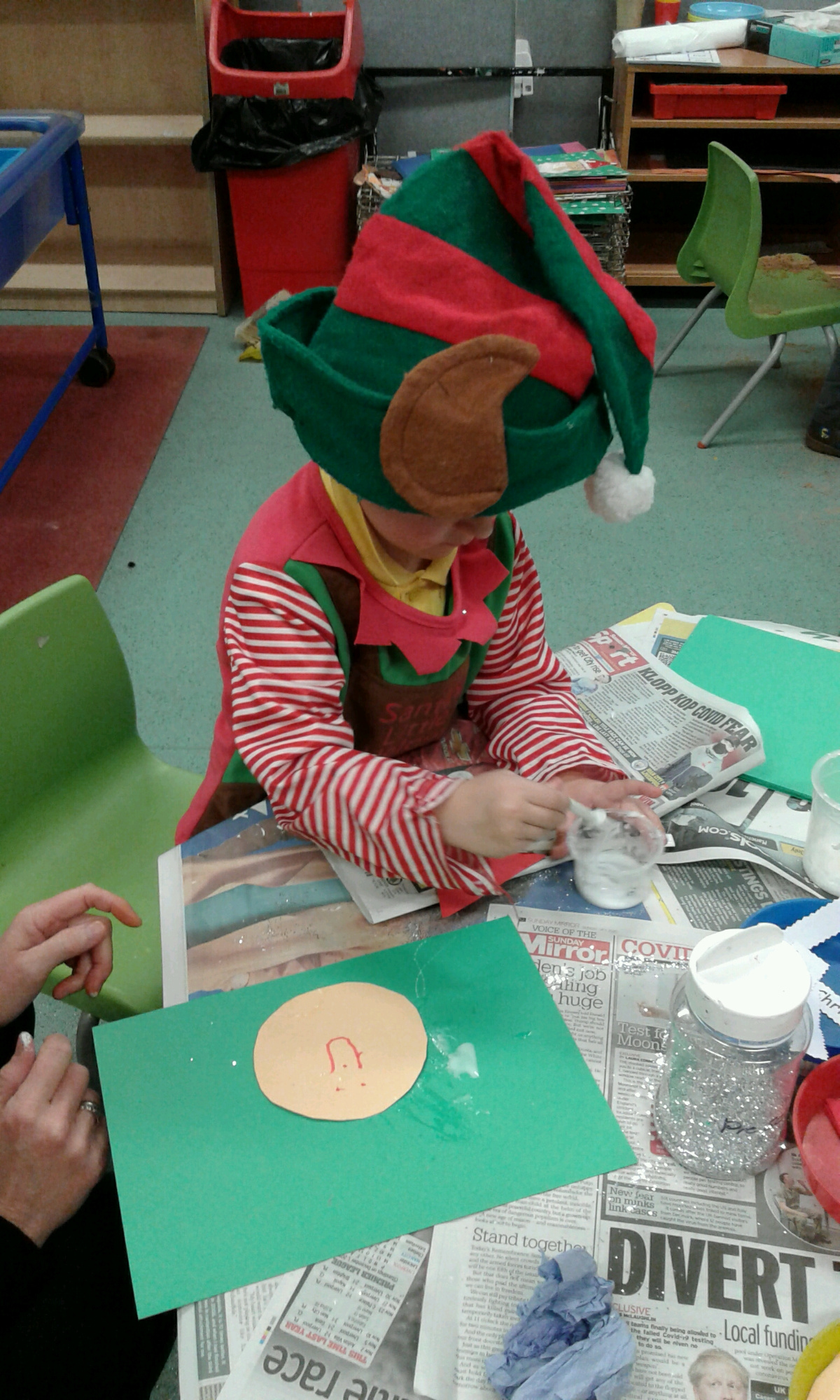 Domino Rally
A child was using the blocks to construct a domino rally. The other children stopped and watched and then decided to join in and help. The placed the bricks quite tightly together and then set them off to fall. They didn't fall, with some critical thinking the children quickly learned that they had to space them out further for them to be able to fall. The children had so much with this activity and spent along time playing.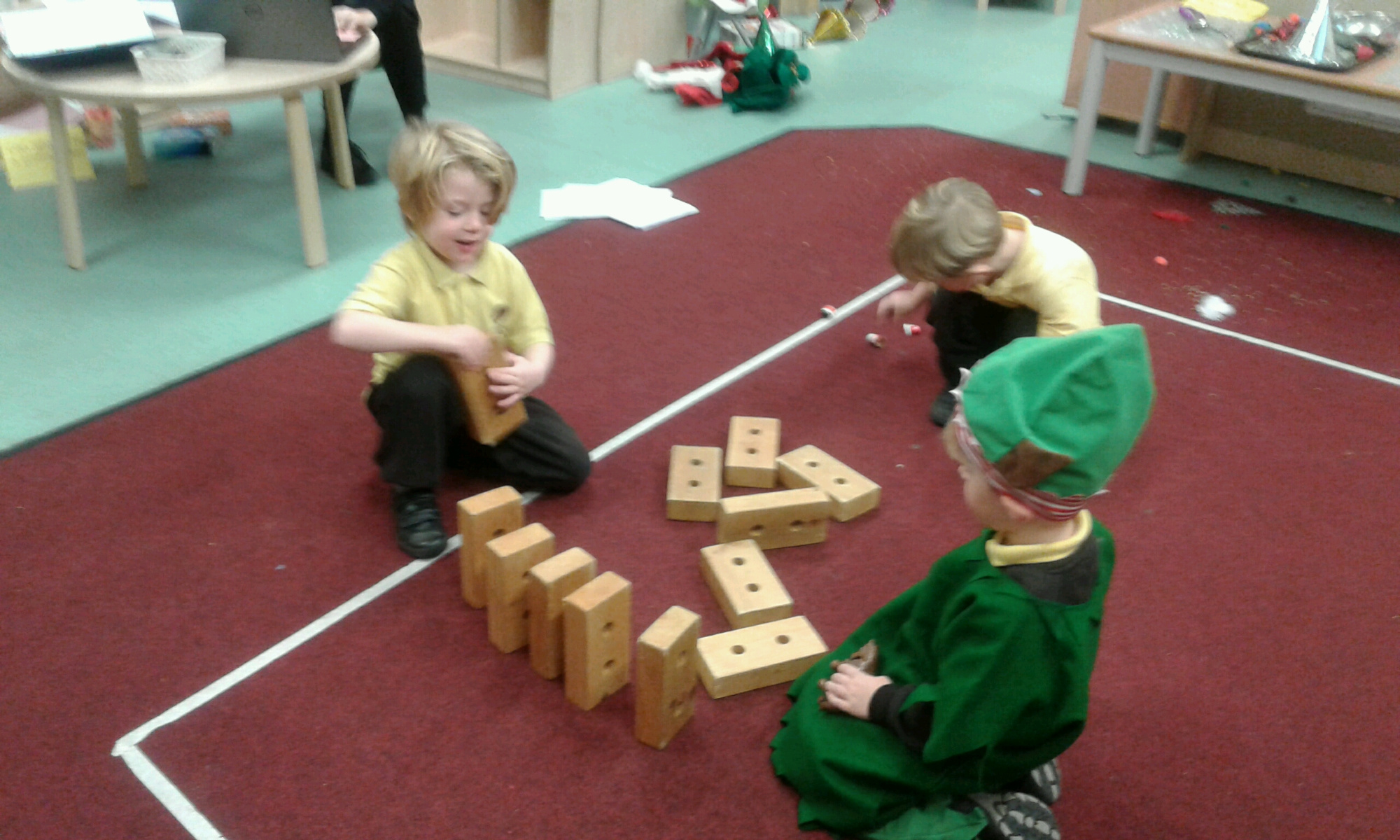 Sailing Along
More photos in our Gallery.
Our topic is 'boats. The children were given open ended resources and by using their critical thinking skills they have been able to make boats boat for the role play area. They have participated in a group physical activity which involved moving forwards, backwards, under and over the sea before they get shipwrecked. Using the above movements the children are developing pre-writing skills. To build on their early comprehensive skills we looked at books, pictures and film clips about boats and discovered how information can be relayed in the form of print. We also started making Christmas cards.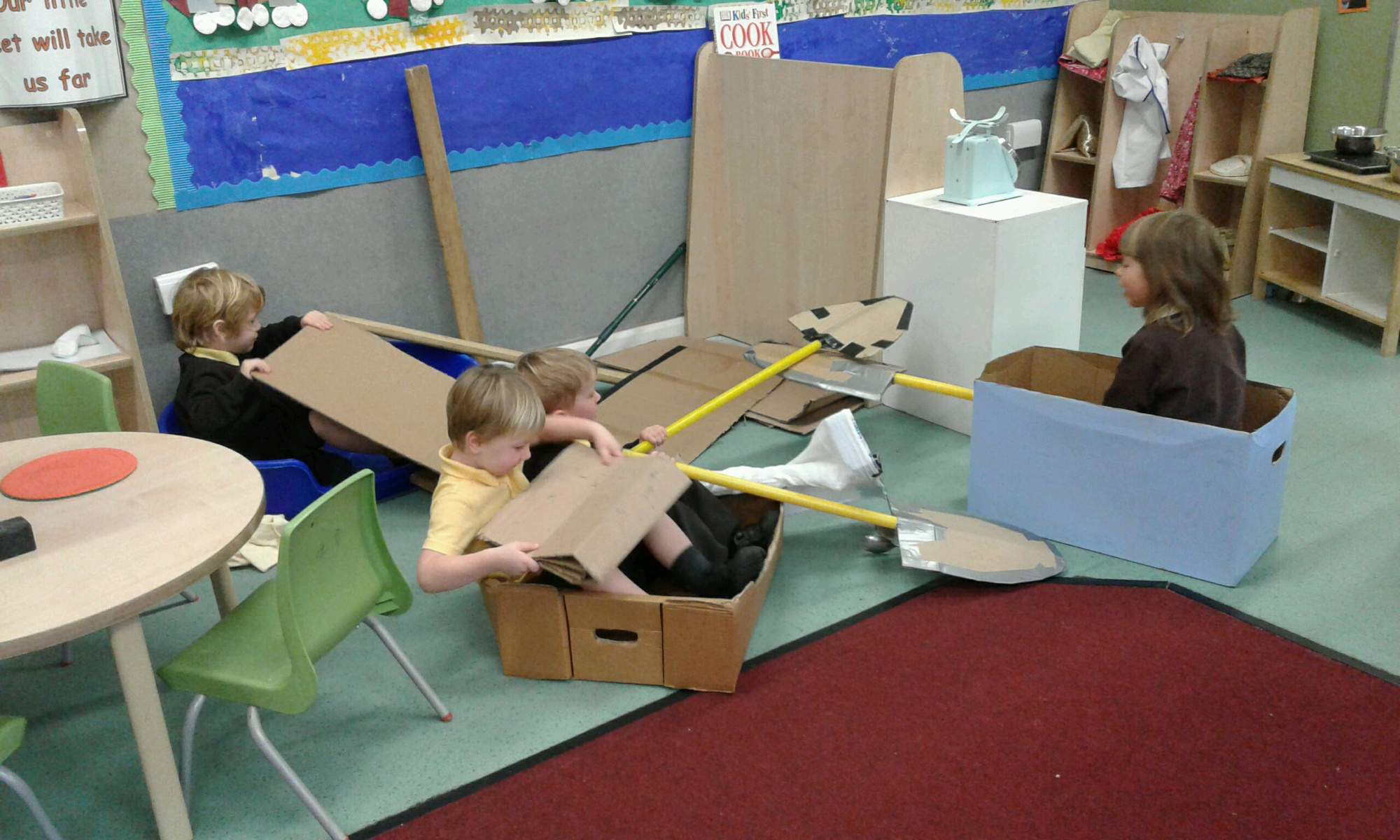 Flying High
More photos in our Gallery.
The children have been learning about aeroplanes this week. They have created an aeroplane in the role play area where they have decided to pack their suitcases and go on holiday. They have been creating their own passports and pretending to fly by sitting in the cockpit. We have talked about Diwali and how the festival is celebrated. The children have enjoyed creating their own henna patterns on hand templates using paint and piping bags and we have visited 'Number Land' exploring the number 1 and circles.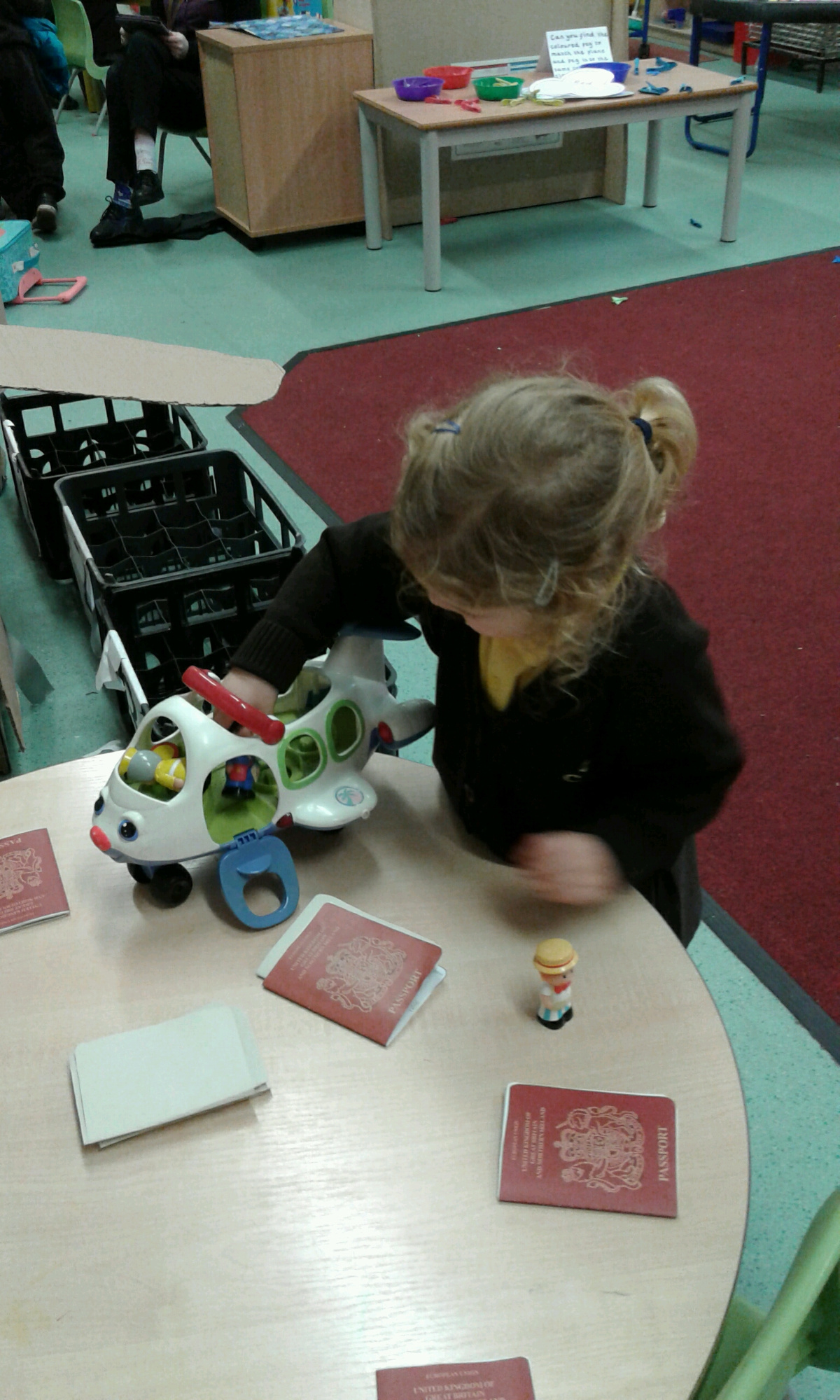 Odd Sock Day - Anti-Bullying Week
This week children have been wearing odd socks for school for Anti Bullying week, we read the story 'Simon Sock' and discussed how it is ok to be different and still get along.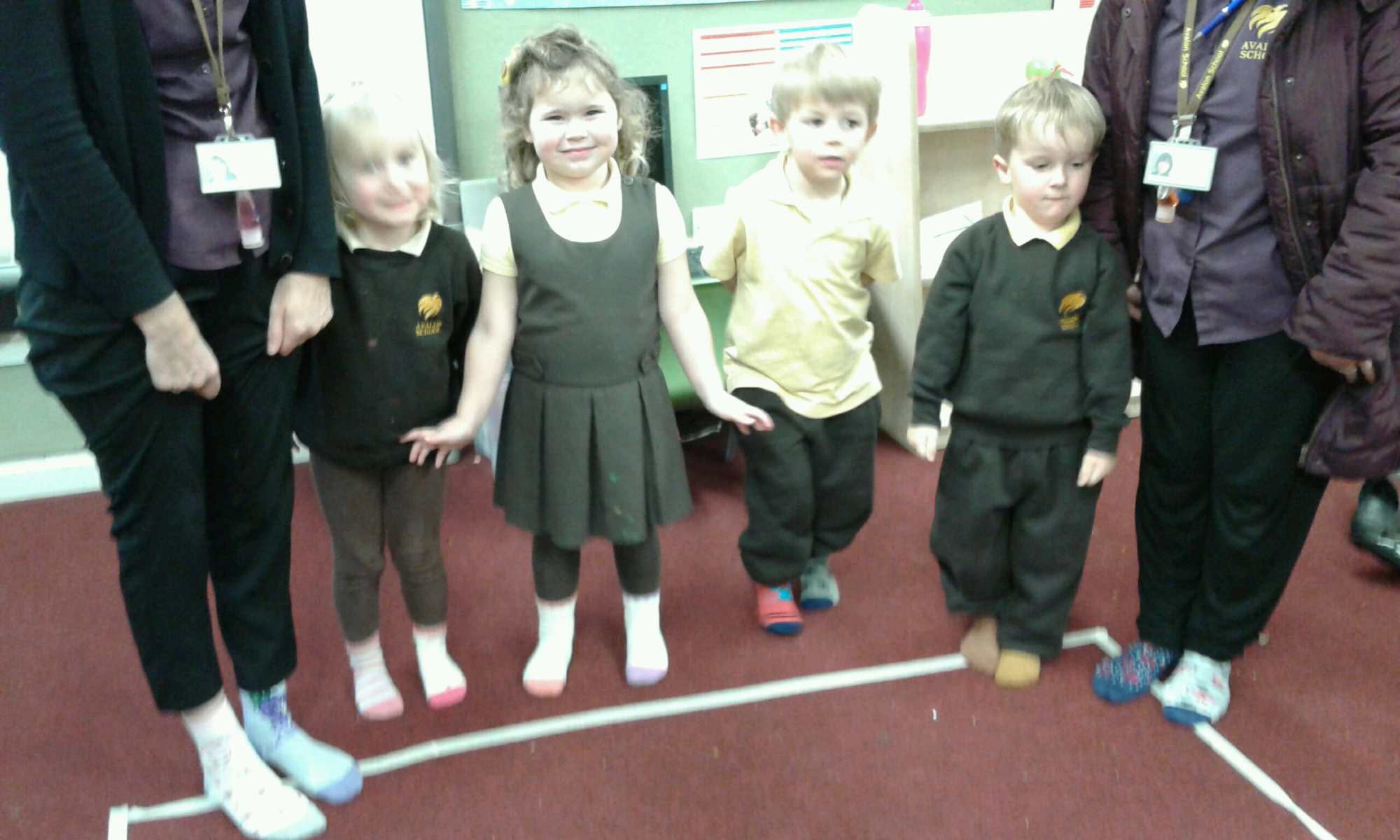 Children In Need Day
More photos in our Gallery.
The children in EYFS have been helping to raise money for Children Need by wearing something spotty. The staff prepared a wonderful rice pudsey bear for the children to play in, they have been playing in coloured rice weighting and scooping. What fun we had.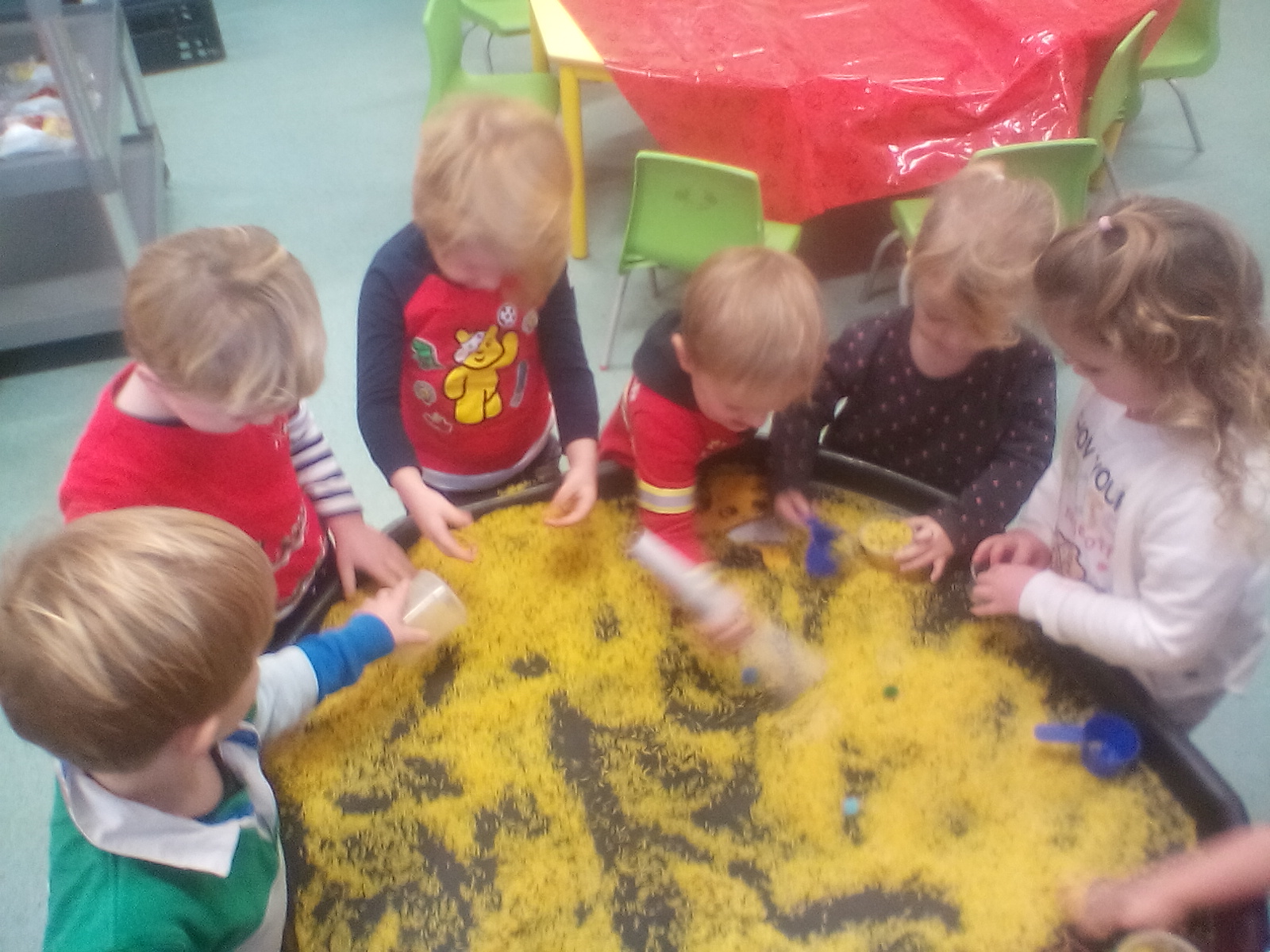 Learning About Diwali
More photos in our Gallery.
The EYFS children have been learning about the Hindu celebration Diwali 'Festival of lights'. The home corner has been decorated in traditional colours, the children have had a go at painting henna pattern using paint in icing bags which were squeezed to create fine lines to make the patterns. We will learn how to make a diva stick and then learn a stick dance and we will produce our own rangoli pattern in the home corner in the coming days, please keep an eye out for more pictures.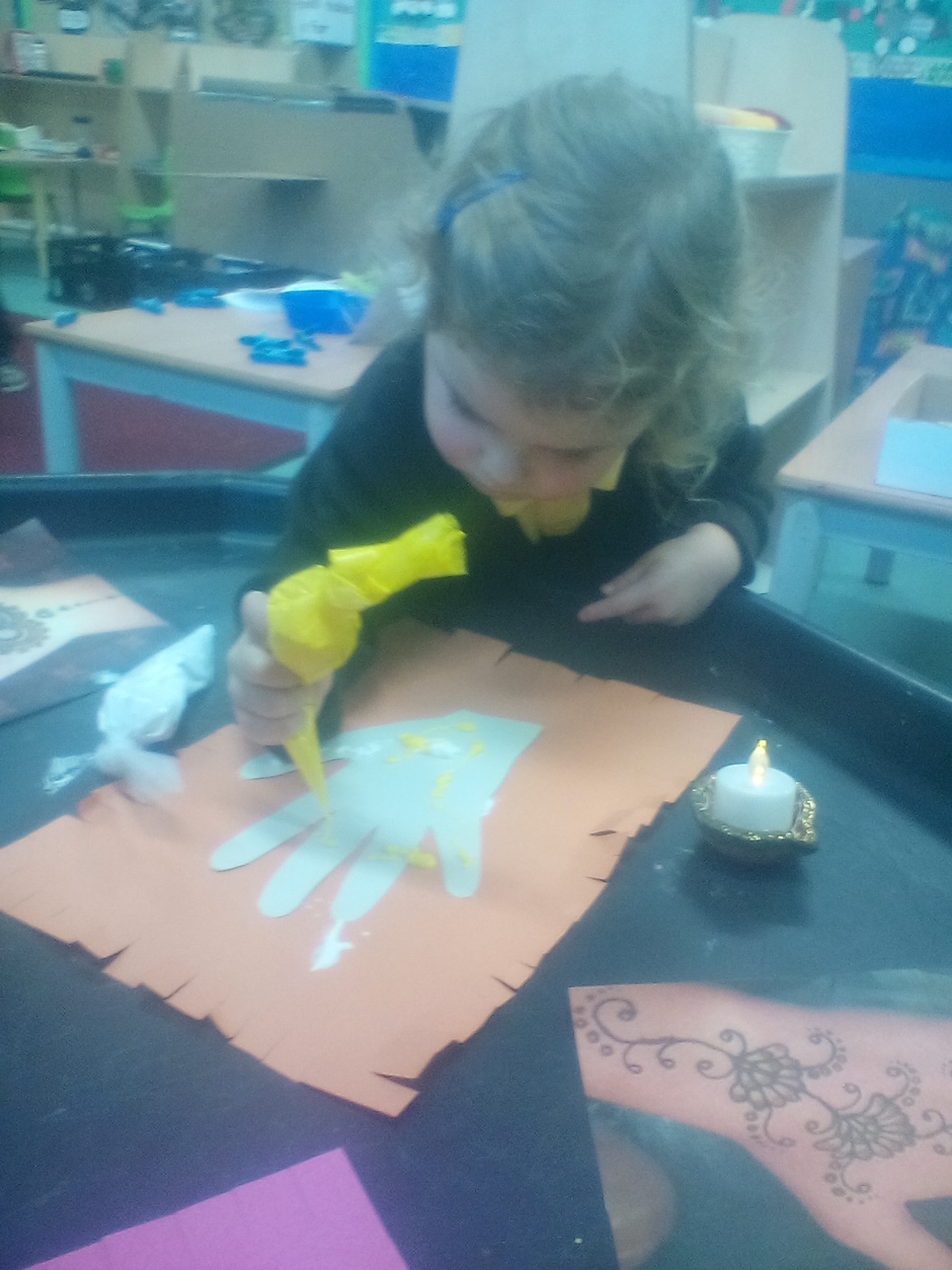 Riding the Trains
More photos in our Gallery.
This week in EYFS we have been learning about trains. The children made a train track on the floor with tables to represent tunnels and the children found different ways to move around the track. We read the book 'The Train Ride' during story time and the children joined in, building on their early comprehension skills. The children have had great fun as they have taken on the role of a train driver and passengers. We have had a lot of trips to Liverpool. The children wrote tickets for the passengers. The children have also learnt about numbers and shapes as they visited numberland. They have had great fun using their bodies to make shapes.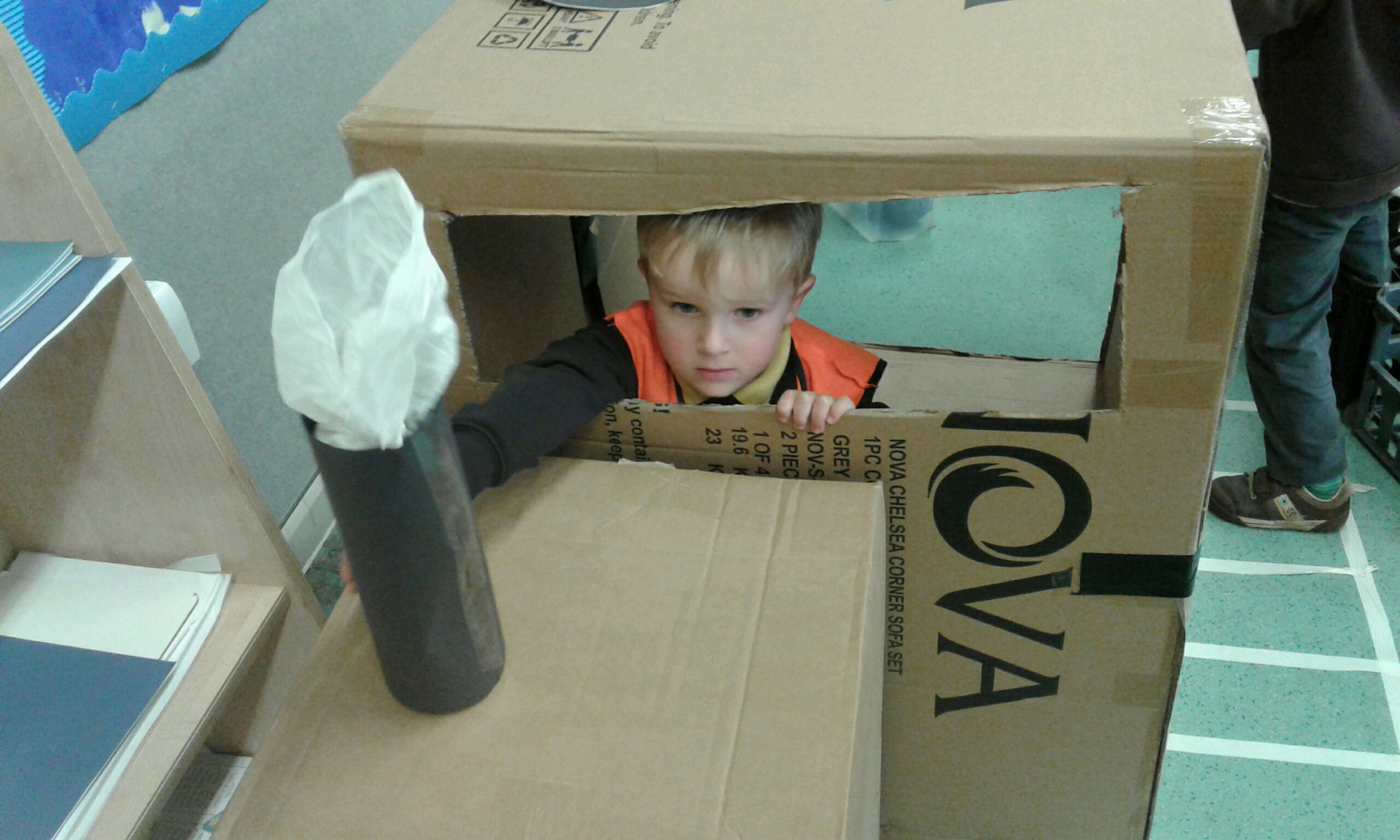 Fishy fun
More photos in our Gallery.
This week the children have been focusing our activities on the nursery rhyme '1,2,3,4,5 once I caught a fish alive'. The children have enjoyed singing this familiar rhyme, joining in with the words and actions during story and song time. They have been participating in a fishing game, counting how many they have collected and grouping them into colours. They have been imitating drawing lines and circles on fish shapes to represent scales and bubbles, talking about the patterns they have made and they've also been exploring various types of fish in our tuff spot, looking at their similarities and differences. In addition to this, some of our parents have come along for 'stay and play' sessions to join in with the activities on offer and find out about the learning outcomes that they cover.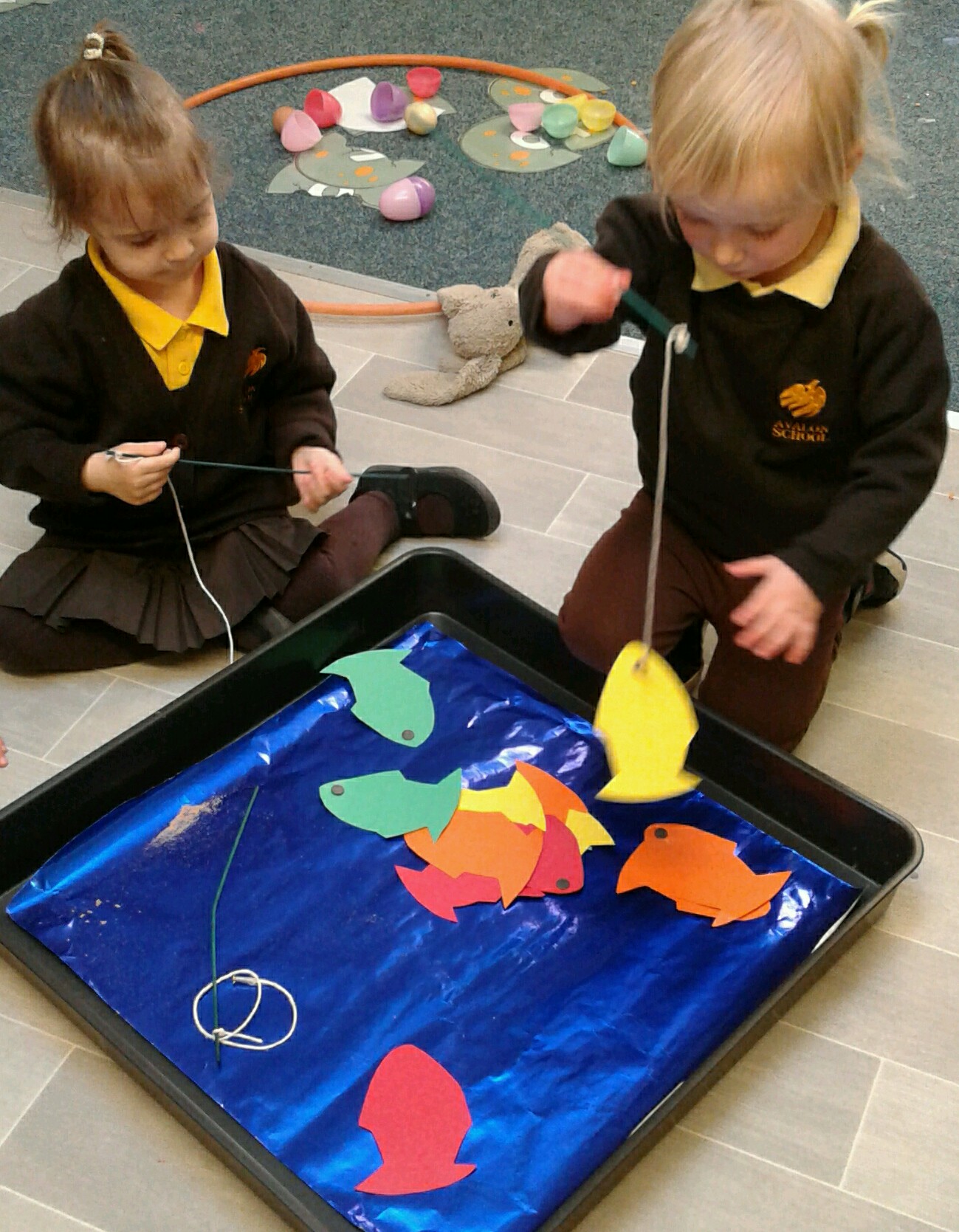 Finding out about Transport
More photos in our Gallery.
The Nursery and Pre-School children have settled well after half term and have been enjoying the activities related to our new topic 'Transport'. Our first mode of transport this week has been cars. The children have thoroughly enjoyed the garage role play area where they have been able to book their cars in for repairs, they have looked at the traffic light system, worked together in teams to complete different road sign puzzles, counted and matched numerals to quantity for passengers in cars and began to create our transport display board. Phew, what a very busy week we have had.

Enjoying the Autumn in Nursery
More photos in our Gallery.
The Nursery children have had another busy week. We have collected different types of leaves, twigs and other autumnal findings from our forest area to use in creating our own pictures, as well as having lots of fun running through the willow tunnels. We have continued to enjoy our visit from the Spanish teacher and we began our Dance and Musical Mini's sessions, where we enjoyed learning new movements and used lots of different props to support them. Messy Play was another great success as we learnt how to make our own play dough, using flour, salt, water and powder paint, it was a messy job but we really enjoyed it.

Working on Their Pre-Writing Skill in Pre-School
More photos in our Gallery.
This week Preschool have been very busy working out different ways to make marks on paper. The children have explored paintbrushes, pens, paint. They even tried throwing empty egg shells full of paint to see what marks they would make. Once all the eggs had been thrown the children then took a print of it. The children even took part in squiqqle whilst you wiggle, to practice their pre-writing skills. The circular movements they are becoming familiar with will help to form the letters o,b,d,p, c, a. We used paper streamers to make our circle shape then we transferred the circular movements to the table and shaving foam. We have also had our first computing lesson and cookery lesson this week. We have been very busy.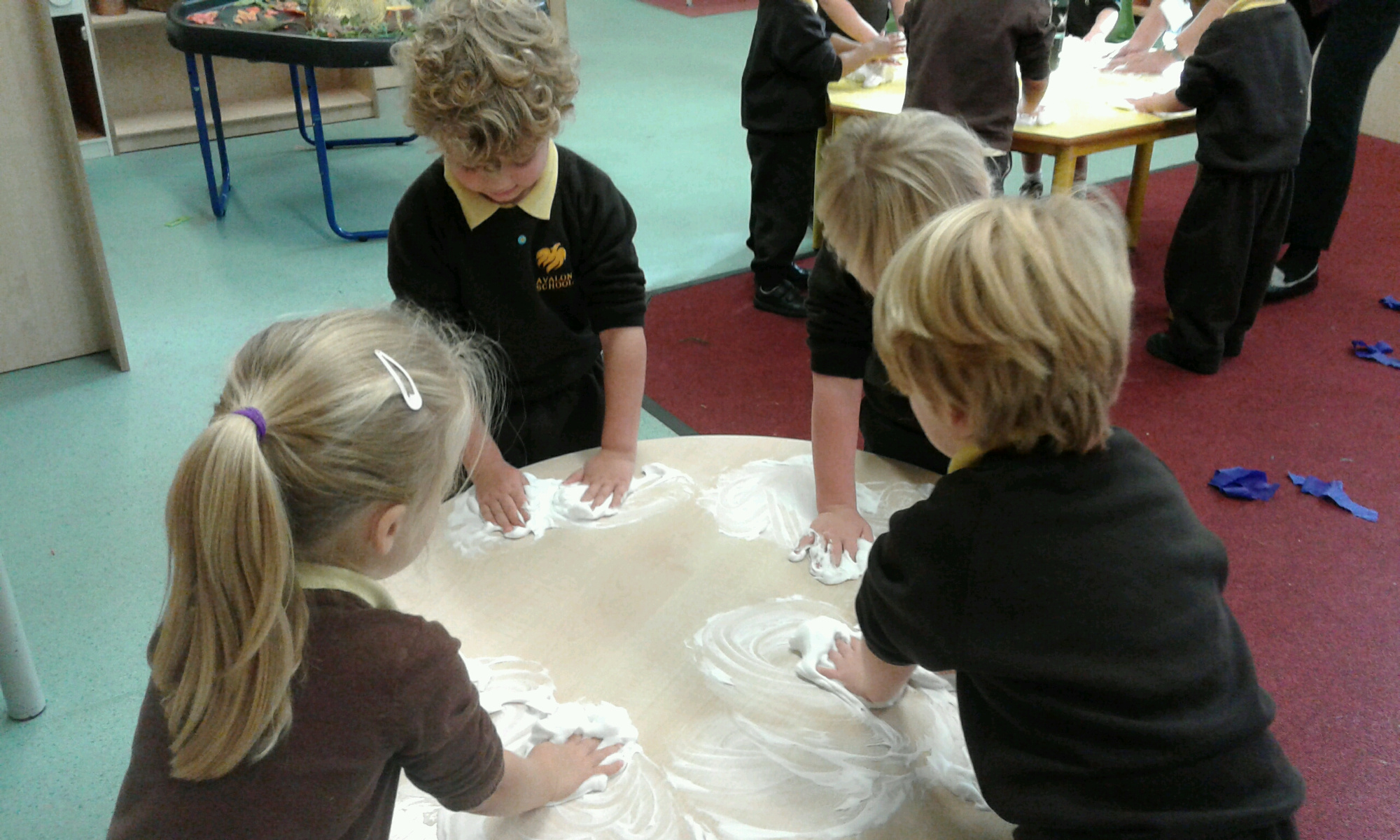 Squidgy Jelly Fun in Nursery
More photos in our Gallery.
The children in Nursery have been very busy this week. They have been practising their gross and fine motor skills, balancing, jumping, hopping, walking, running, and using scissors. They have continued to practice their listening skills by playing a game called jack in the box, waiting for instructions and jumping up. They have particularly thoroughly enjoyed our messy play activities with jelly, shaving foam and paint. The children have created autumn coloured leaves by mixing paint with the foam, dipping leaf shaped stencils in and scraping the foam away. As this activity progressed, the children decided to mix up the paints and foam and create their own marks using their fingers. The jelly was a great success, squeezing it through their fingers and scooping it in to pots. All these activities help to build up their muscles in their arms, hands and fingers and of course they are so much fun.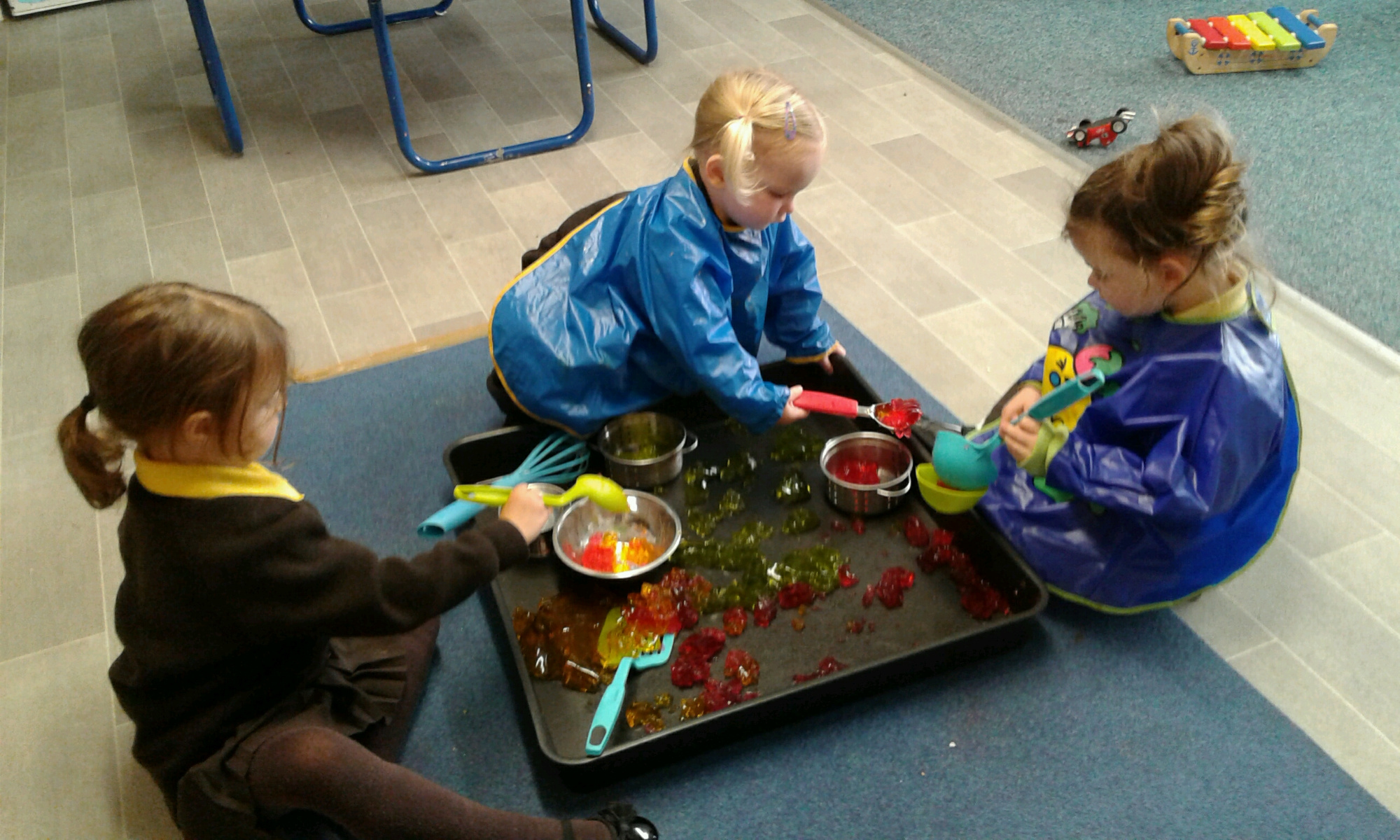 Action Words in Pre-School
More photos in our Gallery.
This week the children have been learning about action words. They were given an action word and then asked to act this out. We used words such as stomp, crouch, shake, press, flick, float. The children then went on to talk about different occupations, we talked about the actions they make. The children came up with fireman sliding down the pole, lifeguard swimming and of course Spiderman flying on webs. We had so much fun. The children also enjoyed playing with the balloons. They tried different ways of making the balloon travelling around their body. Over our head, around our waist and through our legs. The children enjoyed this so much that they keep asking to play the balloon game. We have had a fun week.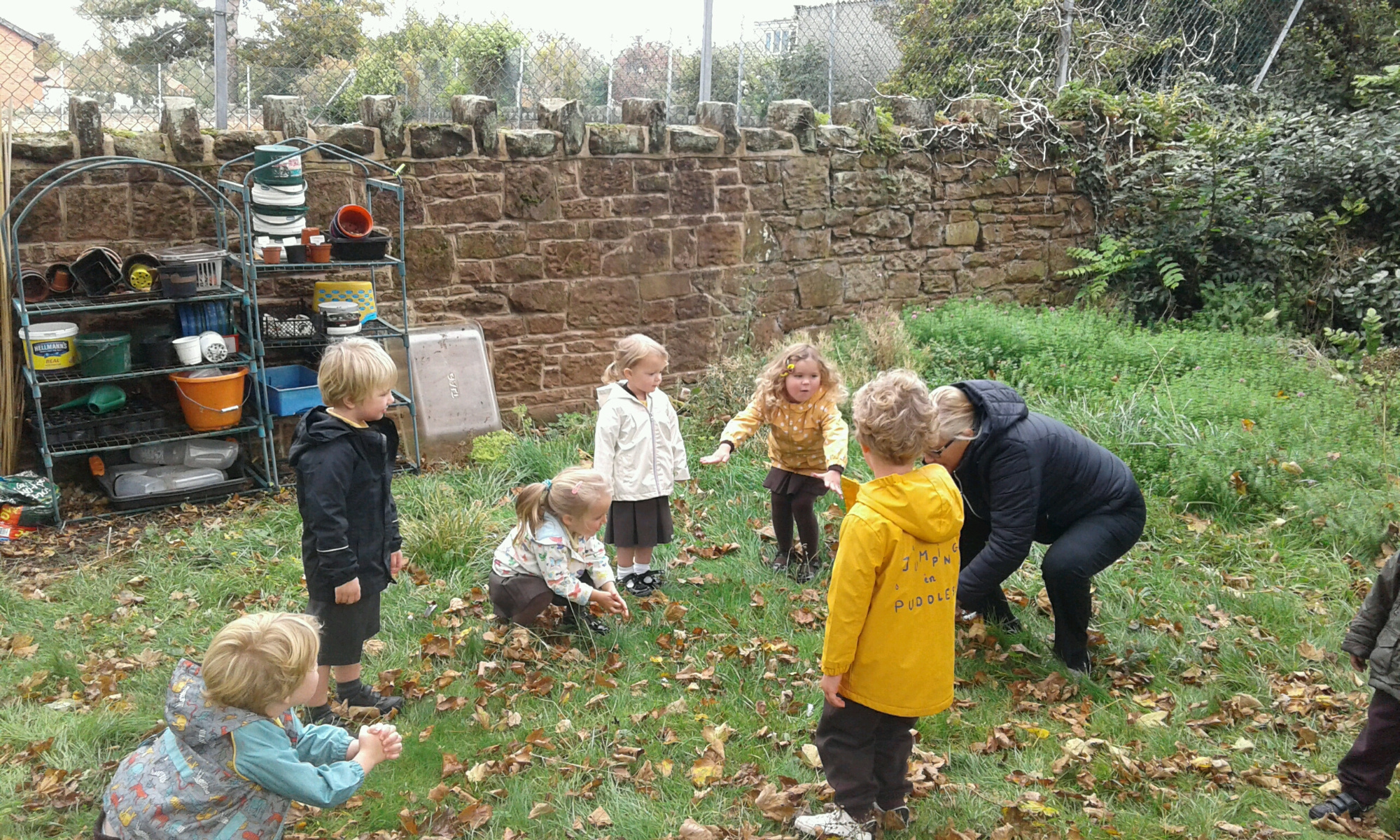 Fun in Nursery
More photos in our Gallery.
This week the Nursery children have been practising their throwing, catching and kicking of balls. They have also had great fun exploring different ways of making marks in play dough and in our outdoor area using the bikes and cars.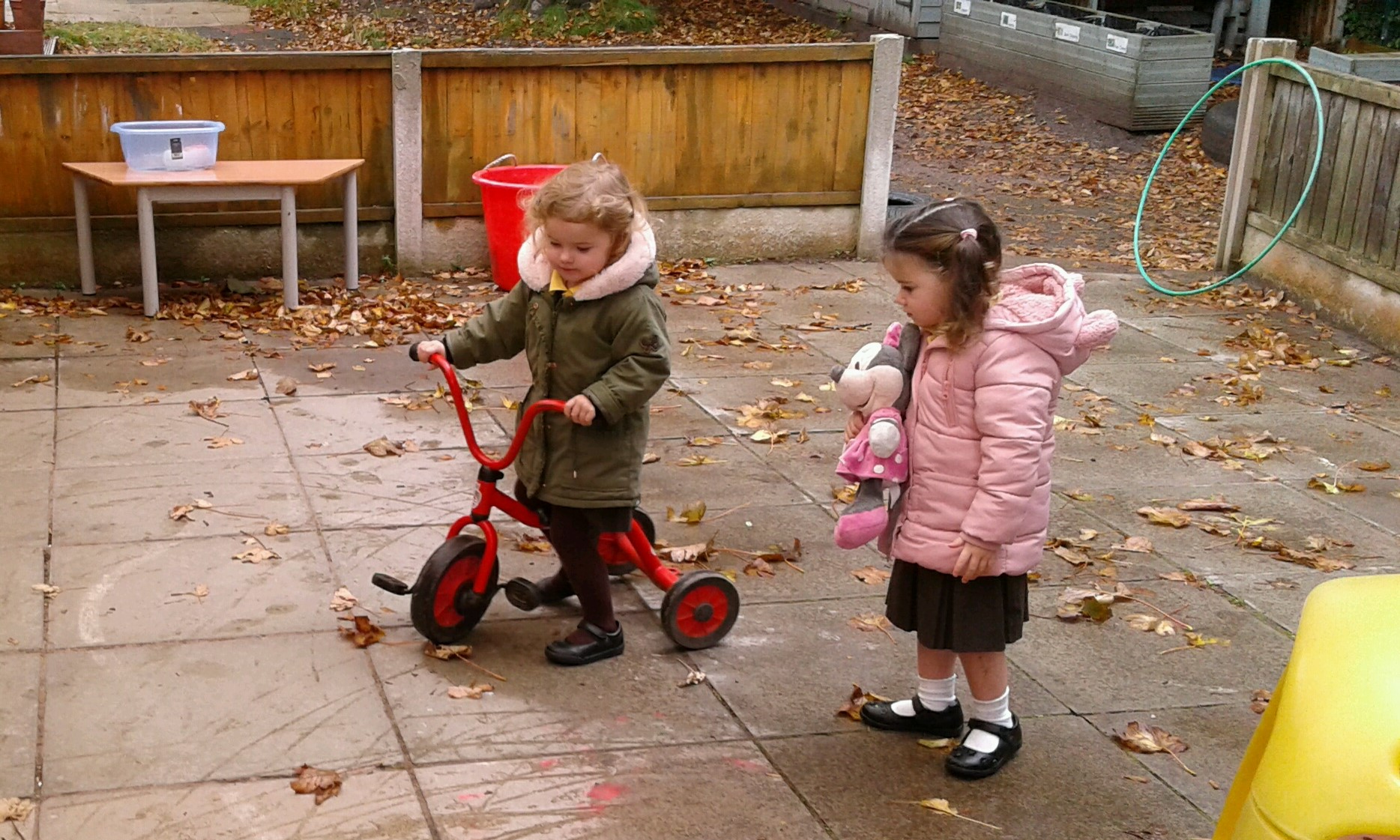 Settling Into Nursery & Pre-School
More photos in our Gallery.
The children in Nursery have settled in very well, after exploring their indoor and outdoor environment. We have been concentrating on building up our gross motor muscles and making marks in different ways using different resources and materials.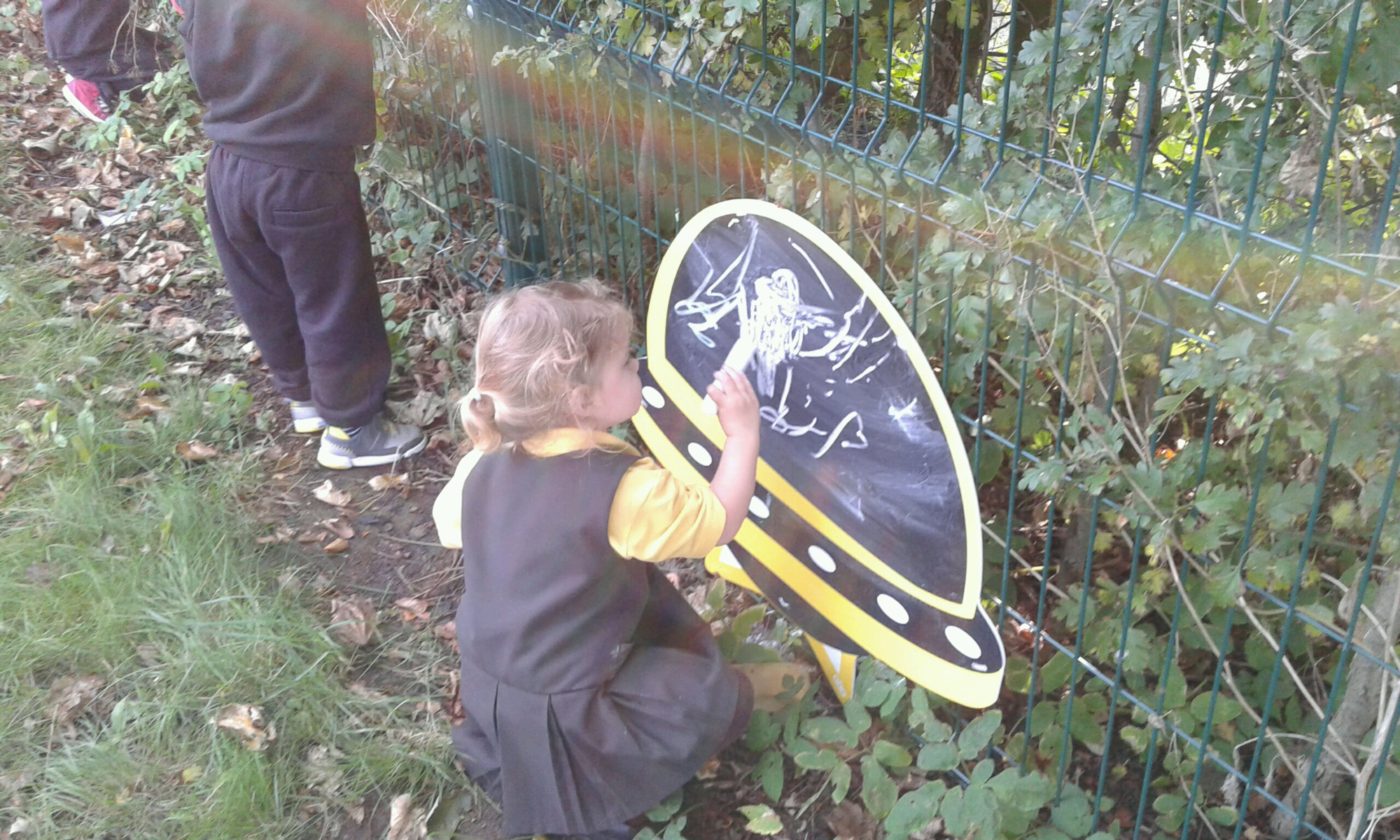 This week we have been continuing to settle into Pre-School and have had fun exploring the sand and water. We have been concentrating on shape recognition and have enjoyed scrunching up paper balls and throwing them at a chosen shape. Together we looked closely at the shapes and counted all their sides. We have also been practising scissor control, using the scissors to follow different lines.